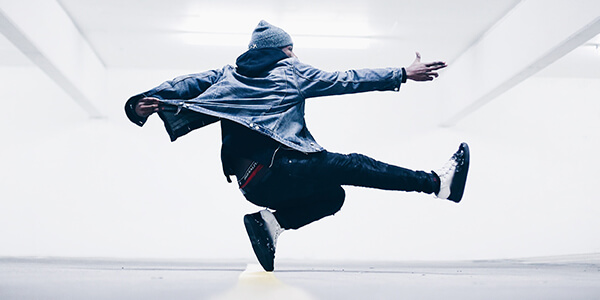 Just like choreography doesn't always go according to plan, neither do classes and performances. If someone puts a foot wrong, trouble can be waiting in the wings.
Say your student trips for real rather than tripping the light fantastic and picks up a nasty injury. It can quickly take the spring out of their step - and yours if the finger of blame is pointed at you.
That's because we live in litigious times and people aren't afraid to make a claim for compensation. If you're self-employed, it's just one of the reasons it's a good idea to protect yourself and your livelihood with dance teacher insurance.
It doesn't matter what type of dance you teach, either. It can be Argentine Tango, Zumba or any of the B-Y dances in between. The thing is, if someone or their property is hurt, a claim can easily follow.
There's your equipment to think about too, including essentials like your sound system. If it's damaged, lost or stolen, how will you run your classes? Because remember – if the music stops, so do your earnings.

How dance teacher insurance can help
Whether it's a student falling foul of a loose floorboard or their parent slipping on spilt water, accidents happen. If the injured person claims compensation for the pain and inconvenience caused, you'll be in the frame.
Injuries like broken legs and damaged backs can put people out of action for a while – meaning time away from school, college or work. And if there's a claim, you'll have to deal not only with the complicated legal side of things but cover any compensation too.
That's where public liability insurance can help. It pays for a legal expert to represent you and handle all the paperwork. Plus, it stumps up for whatever damages are due – preventing your bank balance from doing a reverse turn into the red.
It works for property too. Say you hold your classes and shows in a church hall but your tap group ball-changes the varnish off the wooden floor and smashes a light fitting with a carelessly twirled cane. Or you rent a dance studio but a student shatters a wall mirror.
In both cases you'll be asked to pay for repairs and replacement. And in both cases public liability insurance does the job of covering legal costs and compensation. Besides which, most venues make having public liability cover a condition of hire.
Dance teacher insurance for peace of mind
Teaching dance is an art in itself. And whether you're refining teenagers' posture in readiness for their RAD ballet exams or preparing couples for a Latin competition, people put their trust in you.
But sometimes students (or their parents) expect too much. When an exam doesn't yield the anticipated 'distinction', or the Glitterball Trophy eludes capture yet again, there can be accusations.
People might say your teaching fell short of a perfect 10. And once they've laid the blame for failure at your feet, they may also want compensating for the amount already spent on lessons – plus the cost of repeating them.
When someone questions the quality of your professional services, professional indemnity insurance has your back. It covers solicitor's, court and compensation costs, handles the legal complexities, and leaves you free to keep dancing.
It also helps if someone says they were injured because of your negligence. Maybe you encourage a student to stretch a bit further to complete a move and they badly tear a hamstring or slip a disc.
If they say the injury was your fault and make a claim against you, you'll have to deal with it regardless. Professional indemnity insurance pays for a solicitor to fight your corner, covers all your legal costs, and stumps up for any compensation.
On the move
As a freelance dance teacher, you might hold your classes in various venues in different locations. That means you have to lug your kit around with you.
Dance is nothing without music, so you probably have a sound system you take from place to place. You might have a laptop you rely on too – either for music or to keep track of bookings and payments. And you've no doubt got a phone.
So, what happens if an essential bit of your kit goes missing, either lost or stolen? What happens if a clumsy student collides with your sound system and trashes it?
You'll need to fix or replace the item as quickly as possible – all of which means an immediate outlay of cash, plus lost earnings in the meantime if you can't teach. Disappointed students too, if classes are cancelled.
Portable equipment insurance protects your kit by paying for it to be mended or replaced as new. You're covered wherever you might be, even in transit. And if it's going to take a while, you can claim the cost of hiring stand-in kit as a stop-gap.
Leap of faith
Dancing is all about good technique and well-executed routines to produce the perfect performance.
There's little doubt that protecting your livelihood with insurance makes for good commercial technique. And getting the right cover will help ensure your business performs to the highest level.
Meantime, if your dance teaching career takes the next step to fully-fledged dance school or studio, you'll want to take a look at our specialised cover for dance schools and studios.
Photo by Drew Graham on Unsplash
dance teachers
freelancers
managing risk
teachers and tutors