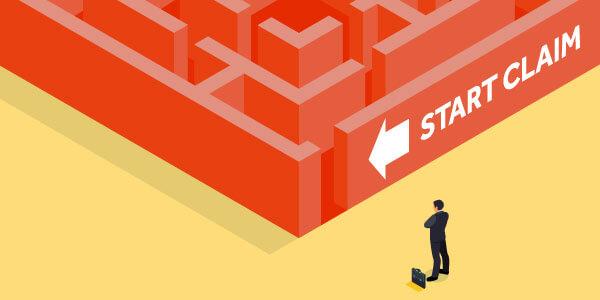 It's likely, at some point, you've thought about the logistics of making professional indemnity claims. After all, it's only at that point you'll find out just how good your insurance really is.
Fair enough. The proof of the pudding is in the eating.
And while we can't speak for every insurer, we're confident the ones we deal with are conscientious and take their responsibilities seriously. Contrary to popular belief, not all insurers mind paying claims – it makes them look good.
But, it's not good news 100 per cent of the time. For various reasons, it's not always the case that professional indemnity claims can be paid. That makes understanding the whys and wherefores of the claims process important.
Understanding the insurer's decision-making process can at least help you be prepared. As can knowing the processes involved. It'll help answer those nagging questions. Questions like: how long does it take? What does it cost? What information do I need? Who do I talk to? Is there anyone on my side?
Making professional indemnity claims: first steps
In any circumstances, each claim starts with you. Getting in touch with your broker or insurer to let them know you have a problem should be the first thing on your list. And you should do it as soon as possible, too.
Delaying your call, for whatever reason, could mean unnecessary worrying. Plus, it increases the chances of your claim being turned down. Late notification is a common reason for insurers refusing professional indemnity claims.
If you're worried about being judged or penalised for claiming, don't be. You won't be charged, and claiming doesn't necessarily mean you'll pay more at renewal.
After first contact, the next thing the claims underwriter does is check some policy basics:
Is this policy valid? Has it been/is it being paid for?
Does this policyholder have the right insurance?
Is the claim against the insured business name?
What's the level of cover?
Is it a precautionary notification (just a disgruntled client) or an actual, proper, written allegation?
Does the claim relate to the insured's business activities?
Is there an obvious wording exclusion or specific clause or endorsement that limits the cover?
Most good insurers assume a claim is valid from the off. That's a good thing – a professional negligence claim against you and your business is unsettling at the very least. The last thing you need is an insurer looking for an 'out'.
The importance of full disclosure
Assuming there are no obvious problems, the next stage is looking at your claim in more detail. It's possible that your file goes to the insurer's specialist claims solicitors.
It's not unusual to be asked for copies of contracts, job specs and relevant correspondence at this point too. This is so the insurer can get the 'big picture' on what's happened – the what, when, where, why and to whom. That request could come from your broker or the insurer directly, depending on the nature and urgency of the claim.
More thorough investigation can sometimes open a can of worms. Further information inevitably reveals previously unknown details. But you shouldn't hold anything back when making professional indemnity claims - even if you think it could harm your defence. Your insurer works best when they know everything, warts and all.
(Don't forget, professional indemnity insurance is there for when you have made a mistake not just for when you haven't but someone says you have. Just because you're guilty doesn't mean you're on your own.)
Premium value for money
This is when you start to see some value in the premium you've paid. Both your broker and your insurer take on your defence, advising you where you stand and telling you what to do/what not to do. It's important you don't inadvertently make the situation worse while they're trying to make it better.
Their concern at this point is you and your business, not whether or not they can wriggle out of paying the claim. If it's got this far, then your insurer is probably resigned to paying something. It'd prefer a bill just for your legal costs rather than compensation too, obviously, but that's not for you to worry about. Your policy picks up the tab either way.
Keeping an eye on all this to-ing and fro-ing is your broker. It's their job to make sure things progress as they should; communicating with you and your insurer and being a point of contact for both. Good ones lend a sympathetic ear and an arm around your shoulder, too.
A friend in need when making professional indemnity claims
Remember that your broker is on your side, always. If you don't think things are panning out quite as they should, your broker can argue your case with your insurer on an equal footing. You'd be surprised how much difference that makes.
How long this takes is anyone's guess. The initial stages can be over in just a few days, but even a spurious allegation is likely to take at least a month or two to tail off. More protracted cases can take much longer to resolve. Insurers are naturally cautious and like to keep claim files open for a while, just in case.
Whether your insurer pays out depends on the case and its outcome, of course. You might have to pay the policy excess but if your insurer uses its own legal team to successfully defend you, you could get through the whole thing without spending a penny.
Keep the faith
Perhaps the trickiest thing for you lies in putting your faith in an insurer in the first place.
How do you tell the good ones from the not so good ones?
Here's our how-to-choose advice:
Shop with caution and do some research. Ask forums, professional bodies and other businesses for their recommendations. Read reviews.
Beware of very cheap cover. It could mean something's missing. Good value is different.
Beware generic policy wordings. Again, it could mean the industry-specific cover you need isn't included.
Ask a broker. Comparing insurers and their cover is complicated and tedious. Get an expert to do it instead.
Your insurance is an investment. It's your business on the line. Take it seriously and your insurer will too.
You can get help with professional indemnity insurance by clicking here or calling the team on 0345 222 5391.
Image used under license from Shutterstock.
claims
insurance explained
running a business