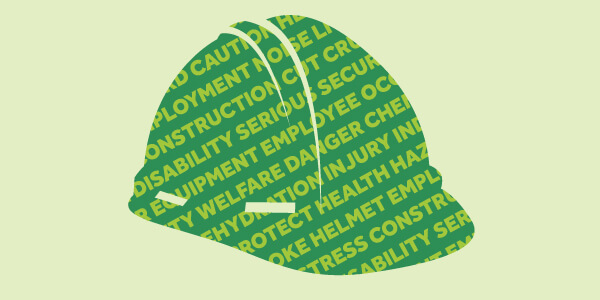 Buildings crumbling, roads buckling, bridges collapsing, machines malfunctioning and electrics going up in smoke...
These might sound like scenes from a disaster movie. But for consulting engineers, they can be the stuff of professional nightmares. They're also the kind of situations professional indemnity insurance for engineers (PI) is built to help with.
Fortunately, in reality, things are usually less dramatic. Perhaps a ceiling in a building extension collapses because the structural calculations are off. Or a technical design for a piece of machinery is found to have a flaw - after the machine's been built. Maybe a designer misinterprets your renderings and orders the wrong materials.
Each one of these scenarios could lead to a claim against you. Nobody dies, the world isn't engulfed in flames - off-screen, anyway. But mistakes have been made, and someone's got to pay.
How professional indemnity insurance for engineers makes for solid business foundations
Engineering mistakes are notoriously hard and expensive to fix (especially when they're structural). But by protecting yourself with PI insurance for engineers, you can help keep your business's foundations solid - even if your best-laid plans do start to crumble.
Designed to provide reliable back-up even in the worst of times, professional indemnity insurance for engineers makes up for a multitude of sins. That includes negligence (in layman's terms, a mistake you've made or something you've failed to do) and breach of duty of care.
PI comes with deep pockets too and pays for legal expertise to fight your corner, as well as covering court expenses and any compensation due. In the meantime, you're free to concentrate on running your business and making sure your reputation stays intact.
Depending on the policy wording, PI insurance for engineers also covers:
Intellectual property infringement
Defamation
Misstatement and misrepresentation
Employee dishonesty
Passing off someone else's work as your own
Breach of confidence and misuse of information
Breach of duty of care referred to under the Housing Grants Construction and Regeneration Act 1996
Sounds structurally solid, doesn't it?
Mind the gap
It's also worth being aware of what your policy doesn't cover. Advice on the investment of client funds, for example, construction and erection work, failure to provide accurate estimates, noise pollution, etc. If that's something you're likely to be involved in, you can contact our team to explore adding an extra level of cover to your policy.
Don't forget, if your engineering business has one or more employees, you're also legally required to have employers' liability insurance, protecting your staff from workplace injuries and illnesses.
Managing your risk
As an engineer, there's rarely a project you face that comes without some element of risk. That's something you can't control. But there are some things you can do to lower your chances of getting hit hard by a claim:
Build up a picture of your risk. Carry out some basic risk assessment before you take out your policy. Think about what you do, who you're doing it for and what it's worth. What's the worst mistake you could make and how much would it cost to fix?
Get the right level of cover. Larger, more complex engineering projects will obviously require a higher level of cover. Our advice is to always buy as much as you can afford. If that sounds a bit vague, this guide will help you crunch the numbers and figure out exactly how much you need.
Read the small print. Clients often specify a certain amount of insurance as a prerequisite before you start your work. This could go up during the construction phase of your project, so check your contract's terms and conditions carefully.
Look at the people around you. Engineers who work with a number of different professionals (like designers, architects, surveyors and construction workers) are riskier to insure - because you're more likely to share the blame if things go wrong. Keep your insurer in the loop about what you're working on and who with, so they can adjust your policy if needed.
Other professional indemnity insurance for engineers essentials
Sometimes it takes years for engineering problems to emerge. Cracks appear, materials deteriorate, values decrease - before you know it, you have dissatisfied clients crawling out of the woodwork.
That's why adding retroactive cover to your policy is essential. It effectively backdates your policy to a time before the actual start date - usually to when your business started trading. It means you're covered for work you did in the past, as well as for any projects you take on in the future.
For engineers' insurance that's built to last, you might want to check out what we have to offer. Or, if you want to chat things through, ring one of the team. Safe to say, they know pretty much everything there is to know about professional indemnity insurance.
Image used under license from Shutterstock.
architects
design and illustration
duty of care
engineers
graphic designers
managing risk
negligence
retroactive cover
surveyors