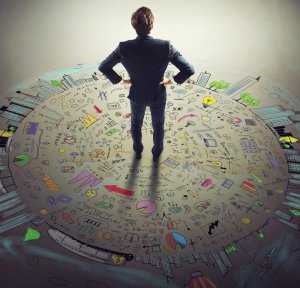 Best-laid plans
All projects have their ups and downs.
When a project starts to wobble, it's up to you to steady the ship. But sometimes it can veer so far off course that your organisational, interpersonal and technical skills combined won't be enough to turn things around.
And if the result is an unhappy client, you'd better have a plan B – because the bad news is, the buck stops with you.
Uh-oh
Potential pitfalls include missed deadlines: if one does slip, there's a knock-on effect on what comes afterwards. If that means waving goodbye to the planned finish date, it can leave a lot of fingers pointing in your direction.
Others failing to do what they said they would can also be a problem. When a project relies on a mix of contractors all doing their bit, you need each of them to deliver on what they promised. But sometimes their work isn't up to scratch or it overruns.
Then there are costs. If budgets aren't viable to start with, and resources or timescales have been underestimated, an overspend is the obvious outcome. And an out-of-pocket client is one who's quite likely to sue for damages.
That's where project managers' professional indemnity insurance (PI) comes in. If a client says it's your fault a project went pear-shaped, it pays for a legal expert to defend you in court. It also picks up the tab to fix what's wrong or, if that's not possible, settles any damages or compensation you're liable for.
Pick a number (not just any number)
How much PI you need depends on your particular line of project management. It's fair to say that if you're overseeing the build on a new housing development, the stakes are higher than if you were commissioning a small IT system.
That's why it's important you choose the right level of cover – it determines how much the insurer pays out if there's a claim against you.
It can be a tricky one to work out, but your level of cover needs to take into account the highest-value project you're likely to work on and not just the amount you're being paid to work on it.
For example, let's say your level of cover is £100,000. If your client says the failure of a £250,000 project is your fault and successfully claims against you for that amount, your insurance will only cover £100,000 of it. You're left having to find the remaining £150,000 yourself. Eek.
Back to basics
Once a claim is made, the damage has already been done in your client's eyes.
But there are steps you can take to prevent things getting to that stage in the first place. Not that we want to tell you how to do your job, of course, but it's always useful to be reminded of the basics:
Start on the right foot. Find out exactly what your client expects from a project. Clear and measurable objectives are something you can work with. Vague aims aren't.
Burst the babble. Clear communication and being unafraid to say 'no' are vital. Never be tempted to make promises you can't keep.
Prepare for hiccups. Plan through every phase of the project so you can anticipate problems or delays. Compiling a risk assessment you can update every week will help keep things on track.
Reach out. Keep the lines of communication open. Regular updates with your client, your team and any subcontractors will help flag up snags before they snowball.
Do your research. Vet all subcontractors you work with and ask for references. Make sure they have their own up-to-date professional indemnity insurance to cover any mistakes.
Get sign off. Make sure initial plans and all stages of the project are signed off. It's a well-accepted legal precedent that by signing it off, your client takes final responsibility for your work. If they spot a mistake or something they don't like after that, it's their problem, not yours.
At the end of the day, you wouldn't be a good project manager if you weren't able to anticipate problems and spot risks. And professional insurance is all about managing risk.
What else?
PI's a very good place to start, but it's not all the insurance you'll need. If you have employees, even if they're part-time or temporary, you'll need employers' liability insurance. And that's not just because we say so, but because it's the law.
Also, because you're likely to be working on-site, public liability insurance should be high on your shopping list. It means if you accidentally damage your client's property, or injure someone, you're covered for it. And it works the other way round, too – for example, if a visitor falls down the stairs at your office and claims against you.
Then there's portable equipment insurance, to cover the essential kit you take around with you like laptops, phones and tablets, as well as office insurance for any fixed equipment.
Get a quote for project managers' professional insurance here, or give us a call.