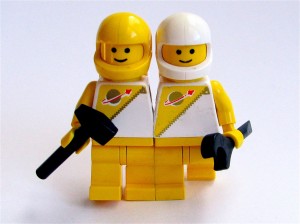 Spot the difference
Well done if you guessed they're both types of insurance.
However, they're two quite different types of insurance.
If you don't know the difference, read this Q&A we had with a made up client in a pickle with their indemnities and their liabilities.
Hopefully it'll help you too.
Client: PolicyBee, help! I'm really confused. What's the difference between professional indemnity insurance and public liability insurance?
PolicyBee: Righto. Which one would you like to start with?
Client: Um, professional indemnity insurance I think.
PB: Well, professional indemnity insurance covers the work you do and any mistakes you make. For example, you might be accused of negligence, or doing something wrong that costs your client money. It pays for the costs of defending you (solicitors are pricey), as well as any other costs such as losses, damages or compensation for your unhappy customer. Does that make sense?
Client: Yes, yes it does. What sorts of things are covered by professional indemnity insurance?
PB: Good question. It covers mistakes, negligence, defamation, intellectual property theft, loss of documents, copyright issues and so on. What's covered exactly depends on what you do and what policy wording you have.
Client: OK, so what about public liability insurance? What's that?
PB: Public liability insurance isn't about the work you do. Rather, it covers you against claims for injuries to people or property damaged caused by your business.
Client: Do all businesses need this type of insurance?
PB: If clients visit you or you pay regular visits to their homes or offices, public liability insurance is pretty much essential.
Client: Hmm, I dunno. Sounds pretty much like some kind of accident insurance.
PB: Yep. Got it in one.
Client: Can you give me some examples of the sorts of things it covers?
PB: Sure. Let's say your client trips over a cable that you left snaking across the floor and breaks their ankle. They could claim against you for bodily injury. And if they can't work, they'll claim for loss of earnings too.
Your public liability insurance covers legal costs and compensation. It'd be a similar situation if you, say, accidentally spilled coffee over your client's computer. The claim for property damage would be covered, along with legal fees and any compensation. Sorted.
Client: So, which is more important? Professional indemnity or public liability insurance?
PB: It doesn't work like that, I'm afraid. If you offer any kind of specialist service or advice, you should seriously consider professional indemnity insurance. Without it, you could lose a serious amount of money if a claim is made against you.
And if you have visits from clients, or you visit them, public liability insurance is equally as important.
Client: If I want to be fully covered, it sounds like I need both?
PB: You said it ...
Client: Yes, I s'pose I did, didn't I?
PB: Don't be too disheartened. If you have professional indemnity insurance already, adding public liability only costs about £3.50 a month ...
Still confused? Feel free to give us a call on 0345 222 5391 and we'll try our hardest to answer your questions.
insurance explained
managing risk
negligence