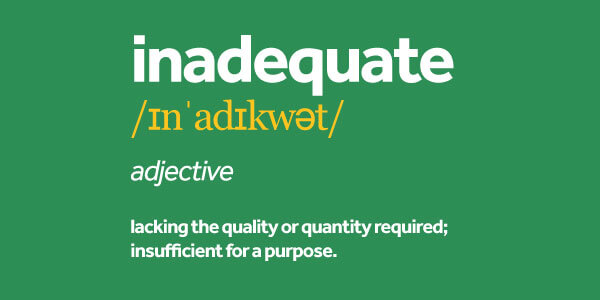 One of our all-time most popular articles is: How much professional indemnity insurance do I need?
Unsurprising, really. Not buying enough insurance and being underinsured is just as much a waste of money as buying the wrong insurance in the first place.
Dangerous game
Everyone loves a bargain, true. But relying on cheap insurance or scrimping on the amount you buy can be a costly mistake. It's likely the level of cover will be too low, or the small print loaded with exclusions.
So, in the unlikely event you need to claim on your insurance, you'll cross that bridge if and when you come to it, right?
Problem is, insurers take steps to deter those who deliberately underinsure their business. That puts them perfectly within their rights to reduce the amount they'll pay for a claim proportionate to the amount you're underinsured by.
It's called the 'average rule'.
For example, if your level of cover is £100,000 and you make a claim for that amount but are found to be underinsured by 30%, your insurer could legitimately pay you just £70,000.
Not everyone's an expert, though, and it's easy to accidentally underinsure your business. Some insurers are more lenient with clients who've done just that but it's hard to be definitive. One size doesn't fit all.
Here's how to make sure you get it right.
How not to be underinsured for:
Professional indemnity insurance
With PI insurance, the most important things to consider are the likelihood of a claim, and the potential cost of that claim.
You should think about what you do, what clients you work with, and how much your contracts are worth.
Bear in mind that if the total cost of a claim exceeds your level of cover, your insurer won't pick up the shortfall.
That's especially important if your policy is 'in the aggregate'. It means your policy only gives you a certain amount of money (the level of cover) to pay all claims in one year . If you reach this level of cover in just one claim, there's nothing left to pay anything else.
Buildings and office equipment insurance
Buildings:
The Building Cost Information Service has estimated that at least 80% of commercial properties are underinsured. Both inside and out. Clearly, this is a problem.
When calculating rebuild costs, make sure you factor in rebuild preparation costs too. For example, you'll have to pay someone to get rid of any rubbish or debris, as well as making sure the area is safe to use.
If you're lucky enough to have a listed building as an office, be aware that the rebuild costs are likely to be high. Any work is also likely to take longer, as specific building supplies and equipment can be more difficult to source. If in doubt, commission a survey first.
Equipment:
Add everything up. And we mean everything. From carpets to coat racks to cups; from mouses to monitors to mobiles. If you needed to replace everything your business owns, in one go, at the same time, you need to make sure your level of cover is enough to do just that.
To avoid underinsuring your general office equipment, it's good practice to inform your broker whenever you update or buy a piece of your kit, including software updates.
Ideally, keep an inventory of what's what and put someone in charge of updating it. If a director takes this on, they should be aware that they're liable for the shortfall if failure to keep track of assets means the company is underinsured when there's a claim.
Business interruption
If there's some kind of business crippling disaster, business interruption insurance keeps your business up and running while your property insurance sorts out a more permanent solution. When working out how much cover you need, be realistic about how much it's going to cost to set up elsewhere. £20k isn't a bad place to start.
If you've got a team of thirty people, you're going to struggle to squeeze into a portable office. Likewise, if you rely on specific software, you're not going to get much done without it. This is also true if you rely on specialist machinery or equipment (hello, photographers and videographers).
Bear in mind that if your equipment is particularly niche, it may take a while to find replacements, especially if it has to be sourced from abroad. As well as increasing the timescale of restarting a business, this can also push up costs.
Making sure you're not underinsured
There's a lot to consider when it comes to making sure your business is well covered.
Obviously, it pays to keep your insurer in the loop each time you update your kit. They'll know best whether or not you need to increase your level of cover.
It's also good practice to use your insurance renewal as an opportunity to check your levels of cover.
Don't forget, you have obligations under the terms of your policy. Insurers may be inclined to treat you less leniently if you've gone past your renewal without making any necessary adjustments.
If you're not confident you've accurately insured your business, feel free to call 0345 222 5391 for some advice.
buildings insurance
business interruption insurance
claims
managing risk
office insurance