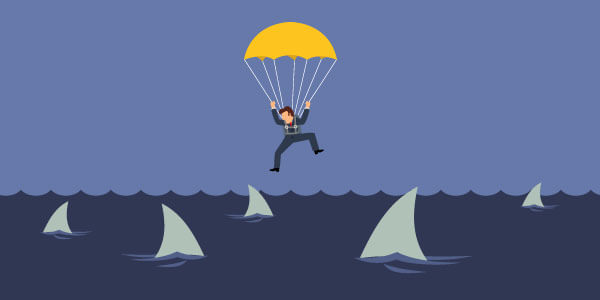 Here's a story about underinsurance. It's a sobering tale of someone discovering that too little is too late in all the wrong ways.
One of our customers recently had a claim. Nothing too unusual about that. Happens every day.
This particular claim was for stolen equipment – cameras, lenses etc. Again, nothing too unusual about that.
What was unusual (and worth telling you) is that the claim didn't pan out quite as the customer had hoped.
That's because what he thought was covered turned out not to be. Not because he didn't have the right insurance – he did. But because he didn't have enough of the right insurance, making it a case of underinsurance
Here's what happened.
Less is less
First, some background.
As you might have guessed, this customer, we'll call him Angus, is a photographer.
Angus, like most photographers we insure, has a combination of different professional insurance policies. One of these policies covers his equipment.
Equipment insurance levels of cover are usually split between the permanent, fixed items in a studio (we'll call these 'contents') and the things taken out and about on a regular basis (we'll call these 'portables').
Rather than lump everything together, these two types of equipment each have their own level of cover and premium. This is to more accurately reflect the slightly different risks affecting each.
For example, for obvious reasons, portables are more likely to get lost, stolen or damaged than the stuff that stays in one place. Covering it costs more as a result (the insurer charges a higher rate per £ of portables cover).
That's why it's very important you know exactly how much equipment you have, where it's kept, what it's for, and how much it's worth. Your level of cover isn't set by the insurer – it's based on the amount and value of things you declare. They'll insure what you tell them to, basically.
And that's where Angus fell down.
Underinsurance payback
When he got in touch and told us he needed to claim, one of the first things we did was look at his policy schedule. That's so we could see what and how much cover he had.
In this case, it said £5,000. Which was handy because his claim was for just over £5,000.
However, as it turned out, Angus actually owned around £30,000 worth of stuff. When he worked, he only took out about £5,000 worth at any one time, with no insurance to cover the rest of it while he wasn't around.
(You don't need us to point out how risky that is, but we digress.)
Even though the actual equipment he took out varied day-to-day, at one time or another everything in his studio got used.
Limiting his cover to just £5,000 had the obvious benefit of saving money on his insurance premium, but was risky for a number of reasons.
Putting aside the fact that most of his stuff wasn't actually covered most of the time, Angus's insurer saw this 'fluid' arrangement as a clear and deliberate case of underinsurance. They worked out he'd insured just a sixth of what he needed to.
So, as they're perfectly entitled to do, they applied something called the 'average rule'.
This meant, because Angus only insured a sixth of what he owned, only a sixth of his £5,000 level of cover would be paid. That reduced his claim from thousands of pounds to just hundreds, leaving him somewhat short of what he needed.
List-em up
Now, you might think this is a bit harsh. After all, Angus was simply trying to save a few pennies. How was he supposed to know he had to declare everything?
Fair enough. And we do have some sympathy.
But every policyholder (of whatever insurance) has to disclose all relevant, material facts about their business. Insurers need to know everything about what they're covering or they won't cover it. As we've seen, this can result in some or all of a claim not being paid.
The fact is, if there's a claim, your insurer holds most of the cards. Brokers are willing and able to fight your corner, but there's little they can do if you've not kept your side of the bargain.
In simple terms, if you want the right insurance you have to pay for it.
Here's what you need to do:
Be honest with what you need covered. Remember that buying  insurance is always cheaper than buying replacement equipment. Anything else is false economy.
Keep a record or inventory of what you have. Update it when you buy/acquire something. And then update your insurer or broker if it's something significant.
Consider the cost of everything you need to keep your business running. Think about how much it'll cost to replace everything in one go. That's how much you need to insure for.
Keep a track of all equipment that regularly leaves your office. An in/out log will do, and will serve as a reminder to insure items under 'contents' or 'portables'.
Also, bear in mind directors are personally liable for failing to keep track of assets. If there's a claim, and the company's underinsured, the director responsible will have to cover the shortfall.
If you're not sure you have what you need, or you're not sure how to get it covered, give us a call on 0845 222 5391 and we'll talk you through it.
Image used under license from Shutterstock.
claims
insurance explained
managing risk
office insurance
photographers
portable equipment insurance