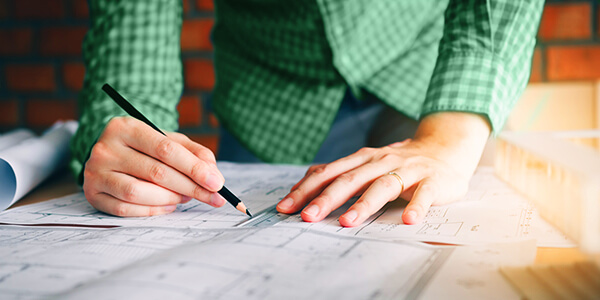 We're insurance brokers. (In case you hadn't noticed.) We wouldn't dream of telling architects how to write a business plan.
But you know what occurred to us? If you're thinking of starting your own practice, some advice from architects who've already done it would help. Right?
Thanks to our recent survey of over 100 UK architects, we've got some insight into what they wish they'd known at start-up.
But before we share it, you might want to think about something.
And that's stop thinking about it.
Do it. Start your own practice.
Because although we discovered that architects typically spend almost four years seriously planning their business before taking the plunge, lots of them said they wish they'd gone solo sooner.
One even said he wished he'd done it 20 years ago.
But don't rush in, either.
At least, not unless you've got your head around the money side of things. Because it turns out managing the financial side of running a practice can be a major headache.
Financial planning for architects
There are two sides to the managing the finances. And many of the architects we surveyed said they struggle with both.
Invoicing's one thing. Getting clients to pay up's quite another. To the point where some said finding the time for invoice chasing actually impacts their profitability.
Manging your accounts can be tricky, too. Preparing year-end reports and filing accurate tax returns take time. And that's time not spent growing your business.
Only accountants or bookkeepers are likely to get up in the morning, excited by the idea of double-entry accounts. So don't worry if it's not your thing. But do factor into your business plan, how much support you'll need here. It'll come at a price.
If you can cope on your own, you'll only need to pay an accountant or auditor a one-off fee each year to sign off your accounts.
But if you really can't manage, then think about paying an accountant a monthly retainer. They can do your invoicing, chase payments, log expenses and file your tax returns. Leaving you free to focus on client projects.
Winning new clients
Linked to your finances, is the whole new world of winning business yourself.
The architects we spoke to said it's quite a challenge managing your workload for existing clients and at the same time, keeping the new business pipeline flowing. Many confessed to taking on too much work to start with.
It takes time to get the balance right.
Cashflow
The constant ebb and flow of work can seriously impact your cashflow.
And doesn't just affect architects. Cashflow problems are the main reason businesses fail in the first five years across all industries.
So it's wise to base your business plan on a worst-case scenario. That way you'll know you can pay your bills during a quiet period.
Then if you win more clients - and have the resources to service them comfortably – it'll be a bonus.
Value your work
When you don't have much work to start with, it's tough. It can be tempting to try to win business by undercutting others.
Don't. The advice of our architects is not to undersell yourself.
It's not just that, if business is slow to start with, charging more will ease cashflow. If you start out as a cut-price trader, the label could be hard to lose.
Good luck with your business-planning.
You'll find more advice for architects on our blog. And for bite-sized updates, follow us on social media.
architects
running a business