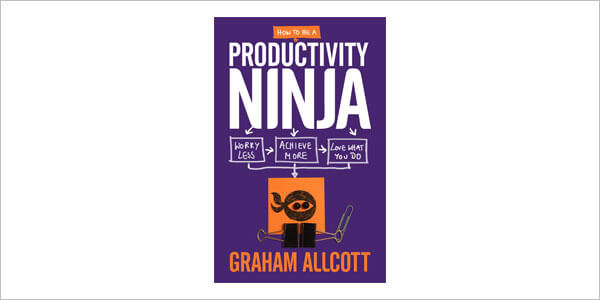 Something new for 2014
Those of you familiar with our blog will know that we don't normally do book reviews.
However, we thought we'd use the New Year as an opportunity to do something different.
So, our first ever book review is Graham Allcott's How to be a Productivity Ninja.
Allcott is the founder of time management consultancy Think Productive. They've given productivity training to many big names, including the National trust, eBay, and Cancer Research UK. Clearly, this guy knows his stuff.
Getting started
The book is well-written and divided up into relevant chapters, so it's easy to find whatever you're looking for. We really liked the book's design too – especially the pictures of ninjas made from office stationary.
Allcott feels that traditional tactics for squeezing as much as possible out your day have become outdated. Especially considering information bombards us 24/7. He promises a modern solution to this information overload.
That said, the book's opening is a bit predictable. There are many generic suggestions on 'the way of the productivity ninja': be healthy, avoid distractions, don't aim for perfection, be prepared, eat lunch. We agree with Allcott's advice, but it's not the ground-breaking light bulb moment we were looking for. The information would work well on a poster, but not taking up the first chapter of a book.
Keep calm
Chapter two is a lot more interesting. It may sound extremely simple, but this chapter covers the usual causes of work-related stress. It outlines common symptoms and advises how to stamp them out.
We liked this chapter: it's helpful to think about what's causing you stress and what you can do about it. As Allcott points out, it's always better to spend a few minutes nipping stress in the bud, rather than spending hours recovering from its effects.
Great advice
Probably the best advice in the book is this: fit your work around your attention level. We all know that throughout the day, our attention has peaks and troughs that affect our productivity. Allcott suggests that we tackle our big tasks when we're feeling on a roll, and save the low effort admin for when you're feeling a bit sluggish.
It's such simple advice, but most of us don't actually do it. We tend to cherry-pick our easiest tasks first, even if we're in our best period of productivity of the day. Definitely a tactic we'll be making use of here.
Ninja email
If your email habits are sloppy and unproductive, you're in luck: there's a whole chapter on getting your inbox down to zero and keeping it that way.
However, Allcott's advice does involve quite a massive inbox overhaul. Initially, you'll have to invest a lot of time to make this work. Whether you think it's worthwhile probably depends on the size of your inbox and how quickly it fills up.
But the book does explain what to do very fully, with the use of helpful diagrams, so you won't get lost if you decide to take the plunge.
To-do
Allcott loves to-do lists. He recommends creating at least three: a projects list, an action list, and a daily to-do list. Allcott also recommends bringing back the 'in tray' as a way of collecting information before assigning it to one of your many lists.
This section also features diagrams and flowcharts to help you get to grips with using this new multiple list system. A few of the resources in the book are also available to download from the Think Productive website.
According to Allcott, the purpose of the lists is to break projects up into smaller, easy to complete tasks. These smaller tasks require less brainpower, so you're able to get more of them done. Productivity = increased.
This list system will take some getting used to and, as with emails, will involve some admin time at the beginning. But if you're looking for a highly structured approach to getting yourself organised, this could be it.
To sum up ...
As well as revolutionising your inbox, the book gives loads of simple advice on how to achieve more. It includes tips for pushing yourself a bit further when you're lagging, and advice for increasing your bursts of productivity.
If you're serious about changing your habits, there are many useful exercises throughout the book. These will make you think about the way you work and how you can change your habits for the better.
Allcott's suggestions on shaking up your inbox and creating to-do lists need a bit of dedication. If you don't stick with them, you might end up in more of a mess than you started.
If you have a system that already works well for you, you know what they say: if it ain't broke don't fix it. However, there are definitely some tips in here that could benefit everyone. We'd say it's worth a read.
*The people at Icon Books were nice enough to send us a free copy of How to be a Productivity Ninja.
running a business