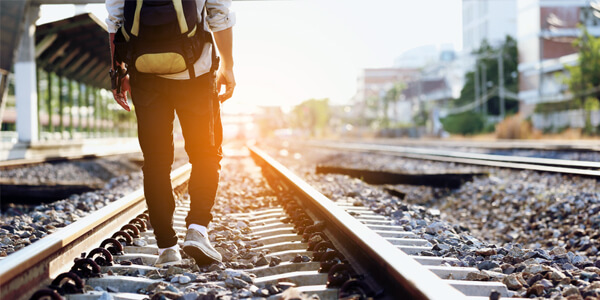 In 2010, the Fitbit health tracker was launched; a wearable device that helps users keep tabs on their wellbeing.
Monitoring activity, exercise, food, weight and sleep patterns, it's been a huge success, with about 76 million sold worldwide.
This has resulted in many of the world's tech giants developing their own range of health tracker products as demand has grown.
And although there is speculation over how reliable some health trackers are, it looks like they're here to stay. But what's caused their popularity?
Health trackers for tracking health
This small and unobtrusive product has allowed us mere mortals to make easy and positive steps towards putting our health first.
It's highlighted the importance of physical activity, motivating users to move more. It's also taken the guess work out of monitoring the good and bad of our individual lifestyles by tracking calories consumed and burnt.
This ease of use means anyone can use a health tracker to keep a check on things, putting control back into the user's hands. It's a small change, with positive gains.
Tracking your employees' health
According to the Health and Safety Executive (HSE), 'it is an employer's duty to protect the health, safety and welfare of their employees and other people who might be affected by their business'. You have a duty of care to your staff, so by focusing on their wellbeing as a whole, you can protect your employees while protecting your bottom line.
And according to a joint 2018 Health and Wellbeing at Work survey by the Chartered Institute of Personnel Development (CIPD) and Simply Health, 57% of people would stay in their job longer if there was more effort put into employee health and wellbeing. If these measures were in place, 58% said their work would be of higher quality.
A no-brainer then, right?
Making employee health and wellbeing a priority
Here are some top tips:
Encourage staff to take time off when they're ill. There's been a rising trend for employees to attend work even when they're sick (presenteeism), which impacts their productivity. It can also mean it takes them longer to recuperate, which can have a big impact if you're a small team.
Review your sick pay policy. A hard-line policy or one that appears to encourage 100% attendance may actually cause more problems in the long run.
Foster an open culture so that staff feel comfortable being open about issues that may be affecting them. Tackling problems as soon as they arise means that you can come up with a solution quicker while putting your staff at ease.
Encourage staff to take screen breaks and to utilise their lunch break where possible. These gaps in work can help alleviate stress while boosting the quality of work produced.
Consider an employee health insurance and wellbeing support plan. A package such as Equipsme is a cost-effective benefit which gives employees 24-hour GP access, diagnosis and treatment, physio, and damage-limiting stress support. It's designed to ease the frustration and anxiety of waiting for treatment while speeding up recovery.


Small changes like these can have a positive impact on your staff's sense of belonging.
And the more you make your employees feel valued, the more invested they are in the success of your organisation.
Image used under license from Shutterstock.
health and wellbeing
health insurance