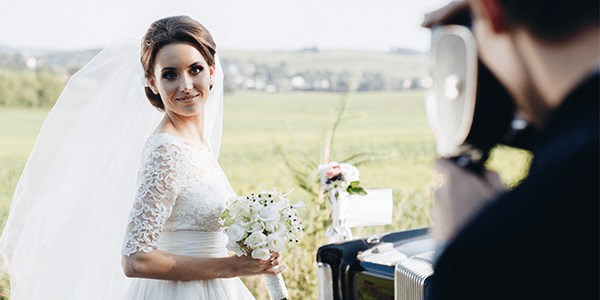 Before you start preparing for the onslaught of confetti, meringues and proud fathers, here's some wedding photography tips for beginners. Let's start with a quick, cautionary tale...
Towards the end of last year, I was a guest at the wedding of two of my best friends. It was a great day with much goodwill, love and hilarity in the air.
As a cost-saving bonus, an acquaintance of theirs – a keen amateur photographer – volunteered to take care of the wedding photos for them. A win-win situation.
Or so you'd think. When they returned from their honeymoon, the happy couple had the smiles wiped off their faces when they saw the end product.
Unfortunately, their friend had indulged in a few too many glasses of the good stuff and missed many of the key moments. Including the speeches. And the cutting of the cake. And the first dance. Still, he did manage to get some distant relatives arriving at the church so it wasn't a total write-off.
Not that it made any difference to the newlyweds. Disappointed didn't come close and, as they confided in me later, if he'd been a paid-for pro they'd have sued him.
The snappy couple
And there's the rub.
Weddings are usually a rollercoaster ride of emotional and logistical triumphs and disasters. They require huge amounts of time and money to get right and it's not surprising they're universally accepted as one of life's most stressful things.
Throw in substantial amounts of champagne on the big day and, for many, the whole thing is little more than a blur.
Which is where you come in. Memories fade and it's your job to create beautiful, permanent records; sometimes at a cost of many thousands of pounds. That's quite some responsibility.
If things don't go according to plan, aside from the emotional fallout, you could face a big bill to reshoot – particularly if an exotic location is involved.
Wedding photography tips for beginners
So what can you do about it? Here are our tips for wedding photographers to minimise your risk:
Scout the location. That way you won't face any nasty surprises and you can make sure you take the right equipment.
Get the couple to think about the shots they'd like beforehand. Make a list and then tick them off as you go.
Plan where you need to be and when. If there's a schedule, make sure you're familiar with it. Consult with the wedding planner if there is one.
Take two cameras in case of any mishaps. Charge all batteries. Empty all memory cards.
Be on your toes and expect the unexpected. Have a back-up plan just in case (for example if it's raining or blowing a hooley).
Lay off the champagne! (At least until you're sure you're done.)
And of course, protect yourself with some good insurance in case things do go pear-shaped, despite your best efforts. Most brokers and insurers offer specialist professional insurance packages for wedding photographers.
Make sure yours includes professional indemnity insurance (for legal costs and compensation if you're accused of making a mistake), public liability insurance (for damages to third party property and/or people when you're on location) and cover for your equipment if it's lost or damaged.
Good luck and keep smiling.
managing risk
photographers
portable equipment insurance