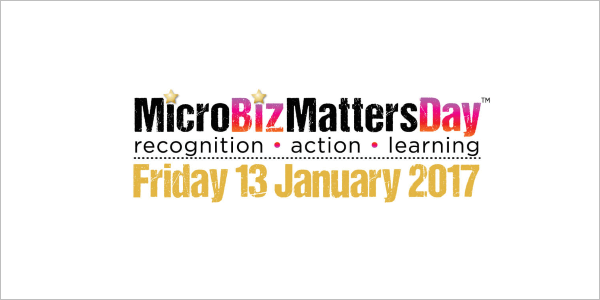 Time to share
Regular readers will know from this that we helped support MicroBizMattersDay 2017 last Friday (13 January). The event was kindly hosted by Charlie Mullins at Pimlico Plumbers in London.
In case you don't know, #MicroBizMattersDay is all about micro-business owners (fewer than nine employees) making their collective lives better by sharing useful business info and tips.
The day revolves around these shared experiences streamed live worldwide, providing eight hours of recognition, action and learning for micro-business owners everywhere.
This year we had guest speakers from the UK and abroad running diverse businesses from flat caps to barmy bunting; from PR companies to healthcare services, sharing their experiences and providing helpful insight to other small businesses.
If you missed it, catch up (on the full eight hours!) here.
Top tips
Of course, we were there too. Dominique and Sarah hopped on the train to the big smoke and spent the day chatting, lunching, and taking part in a Q&A with like-minded, keen-to-learn small-business owners.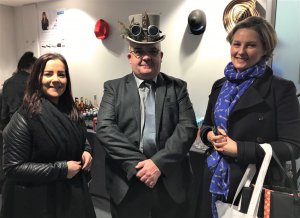 We also met up with our tickets-and-travel competition winner Martin Mullen, aka #Tweetmaster @sweetthoothmarti, all the way from Redcar in his fabulous hat.
The best nuggets came from the live streamed Q&A with panel members Tina Boden, co-founder of Enterprise Rockers and #MicroBizMattersDay; Kanya King MBE, founder of the MOBO awards and Charlie Mullins OBE, founder of Pimlico Plumbers.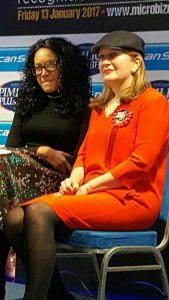 Here are the highlights:
Q: What general tips does the panel have?
A: (All) Surround yourself with a network of like-minded people you meet with regularly; stay focused on your targets; don't spread yourself too thin; stay accountable on actions you've decided on.
Q: How do you know when it's the right time to take on your first employee?
A: (Tina) it's a great responsibility; the first one is a huge step; they will be part of what you do and they will be part of your life. Think about what you can do for them, not just what they can do for you.
(Charlie and Kanya) You can't grow your business on your own. You can employ someone once you have an income, but you can also take on freelance workers, give people a trial or take them on for a project. Start small. It will allow you to work on your business, not just in your business.
Q: How do you make yourself heard on social media amongst all the noise?
A: (Kanya) Make your message clear; word of mouth is very powerful; use key influencers - invite them to an event if you can and generate a buzz... they will talk about you
(Charlie) Get noticed, be unique, do something nobody else is doing. You can be the best at what you do, but if nobody knows what you're doing your business won't succeed
Q to Charlie: What do you know now you wished you had known before?
A: One person can only do so much. I wish I had learned to delegate earlier.
(Kanya) A networking tip: it's not just about going to loads of events to hand out loads of business cards. It's about building relationships. Sometimes I go to an event and speak to only one person, but we go on to be great friends and do business together
Q: What barriers do you encounter as a small business when dealing with larger businesses and how do you tackle them?
A: (Tina) I am passionate about micro businesses. Make sure the big business you work with or for gets it. It's about what you believe in and stay true to your values. I have six tips:
1. Will it bring me income?
2. Will it bring me happiness?
3. Will it promote me?
4. Will they take all our knowledge without giving me any credit?
5. Don't work with tick box organisations
6. Don't work with tossers
Something for everyone there we think. Overall, it was a great day and time out the office well spent.
See you next year, chaps...
MicroBizMattersDay
running a business