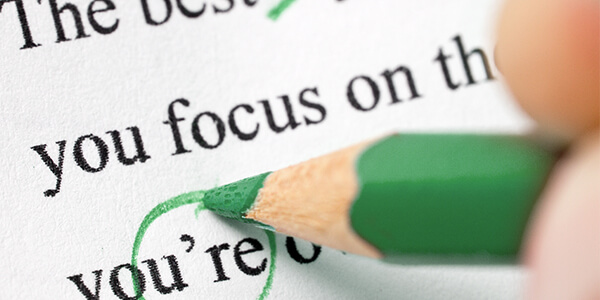 Spelling Bee
Today is, I'm reliably informed by my daughter, World Spelling Day. (I'm not sure why she singled me out and made sure that I, specifically, had this information. I'm still trying to work out if I should be grateful or offended.)
All very well, I hear you say, but what does that have to do with professional insurance? On the face of it, not much (although we'll come back to that shortly). It's more the principle behind it that's worth thinking about.
In these autocorrected times, it seems rather 'old school' to have a day dedicated to spelling. Seems a bit pointless doesn't it?
Well, no, it doesn't. A recent survey by Adecco highlighted the fact that a quarter of graduates lack basic literacy and numeracy skills. As far as employers are concerned, that means a smaller talent pool and more time (and money) spent addressing and correcting their workers' mistakes.
It's about finding a cure rather than treating the symptoms.
Added values
We try to do things properly and work hard to make sure we're as accurate as possible, as often as possible.
Like most firms, we have a set of company values that we (try to) apply to the way we do things. We've based one of them on the word 'precise'. To us, the details matter.
And they should matter. Consistently poor spelling and grammar mark you out as unprofessional and undermine your credibility. We all make mistakes but by continually letting fundamental errors through, you run the risk of pushing away those who are sensitive to them.
Consider the customer who thinks this: "If they can't even get my name right, what else will they get wrong?"
In our current economic climate, losing customers because of silly – and preventable – errors seems rather self-defeating. In some cases, you simply can't afford to get it wrong.
Mistakes spell trouble
So 'getting it right' for its own sake is important of course, but that's not all. There's always the potential for a small mistake to morph into a bigger, more serious problem.
For us, an unguarded finger-slip on a keyboard could mean the difference between a customer getting £100,000 cover or £1,000,000 cover. It's no exaggeration to say that the possible consequences of that sort of thing going unchecked, for both us and our customer, could be disastrous.
More saliently, however, mistakes can cost money. We've seen for ourselves how one small error cost thousands to put right. A claim against one of our clients, a marketing consultant, involved reprinting hundreds of company brochures at great expense – because of one typo.
Professional indemnity insurance policies usually cover claims such as these and, in this case, thankfully, our client's insurance did exactly that. His insurer paid the reprint bill and a relative disaster was averted.
But having insurance doesn't mean you shouldn't be concerned about getting it right. To help prevent errors, at the very least, you should:
Make sure any spellcheckers are turned on (beware of American-English spellings though).
Carry out a second pair of eyes check on external communications.
Have a sign-off procedure internally and with your clients.
Get a good dictionary.
Consult reliable style guides when in doubt (gov.uk, the Times and the Guardian are good places to start).
That way, if you do make a mistake, it needn't end in tiers.
Sorry, tears.
managing risk
running a business