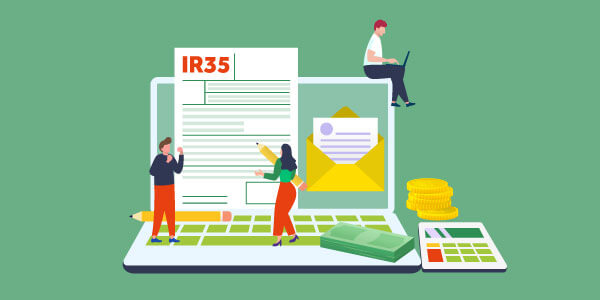 Changes to IR35 tax legislation on 6 April 2018 mean it's time to get up to speed with the rules - especially if you're a contractor, because that's who the changes hit hardest.
Put simply, IR35 legislation is concerned with whether a freelancer or company is legitimately self-employed. It was introduced in 2000, to help HMRC claw back tax from 'disguised employees' - self-employed contractors set up as private limited and personal service companies (PSCs) to avoid paying the higher rate tax and National Insurance contributions that employees are subject to.
Decisions, decisions
Until now, contractors have been able to decide their own employment status. But in April 2017, the focus switched to the client. Now they decide whether a contractor is 'inside' or 'outside' the rules.
The 2017 changes only affected the public sector. And those have caused enough of a headache. But from April 2020, the 'off payroll' rules will apply when clients are 'large or medium-sized businesses' in the private sector, too.
The fact is, IR35 compliance can be difficult to pin down precisely. So clients faced with contractors keen to maintain their 'outside IR35' status, but who could be judged as borderline 'inside', may simply decide to play it safe and go elsewhere.
That means a potential drop in business. So your best chance of staying 'outside IR35' while keeping on winning contracts is to boost your claim to be genuinely self-employed. Make it easy for the client to decide your status, and you'll have a much better chance of getting hired.
How to stay 'outside' IR35
The IR35 rules are far from clear-cut, of course, and somewhat open to interpretation. But there are certain things you can do to boost your 'outside' credentials. Here are some of the main ones:
Make sure you show HMRC you're an independent company, operating with direction from your client but beyond their full control. This means having the power to choose which staff do what, and avoiding working alongside your clients' employees if possible - or having the same line manager.
Give your company a presence by promoting it under its own name rather than using your own, by having a dedicated office space where you can to do business, and by using company-headed stationery and business cards. A website helps too.
Try to make sure your work isn't one, long continuous contract, but a series of specific, shorter pieces of work - preferably for more than one client. You need to show HMRC that you have the scope to turn down work from a client if you want to.
Work at times and locations that suit you, not just the client, and carry professional indemnity, public liability and employer's liability insurance in the company's name, not your own.
Know your stuff
That's the main gist of it, but you can read more about what's needed here. And although there have been some issues with it, the government has also created a handy digital tool to help you determine IR35 status, whether you're a worker, end client, or agency. There's a series of questions to answer, and the final screen advises you if a project sits 'inside' or 'outside' IR35.
The thing is, under the new rules, if the client decides you're 'inside IR35' for a particular piece of work, he'll be obliged to tax you at source - although you won't be on the receiving end of any typical employee benefits like paid holiday, pension contributions and unfair dismissal rights. So lose-lose on that front.
But make sure your self-employed credentials are clear as crystal. And you'll be 'outside IR35'.
Image used under license from Shutterstock.
freelancers
IT contractors
rules and regulations
running a business
subcontractors
tax