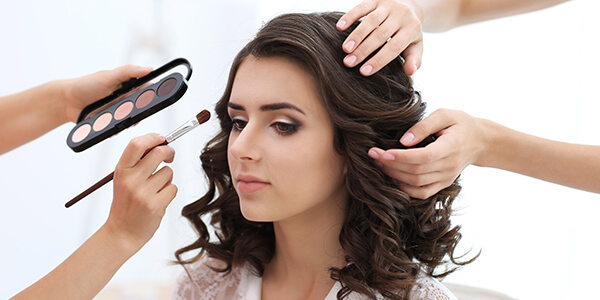 Strict pandemic rules and the need for social distancing put the beauty and wedding industries largely on hold for 16 months. But with the recent easing of restrictions, salons are buzzing and uncapped capacity weddings are happily (ever after) in full swing again.
With this in mind, we headed over to Google Keyword Planner to analyse UK search volume data for 125 beauty trends, to get a steer on which were the most popular or emerging. Then we interviewed industry experts and asked them to predict how these might translate into the wedding industry.
So which beauty trends are brides and their grooms most likely to be rocking in winter 2021 and spring 2022? Read on to find out…
Top trends by average monthly search volume data
We picked 125 trends for our search volume research – including 31 related to skincare, 27 related to aesthetics, 33 related to makeup, 24 related to grooming, 3 related to dental, and 7 wedding-specific phrases – and collated the average monthly search volumes for each. Average monthly search volume figures are based on the mean average for the 12-months spanning September 2020-August 2021 (data pulled 06/10/2021).
Based on our findings, the most popular beauty trends overall were revealed as: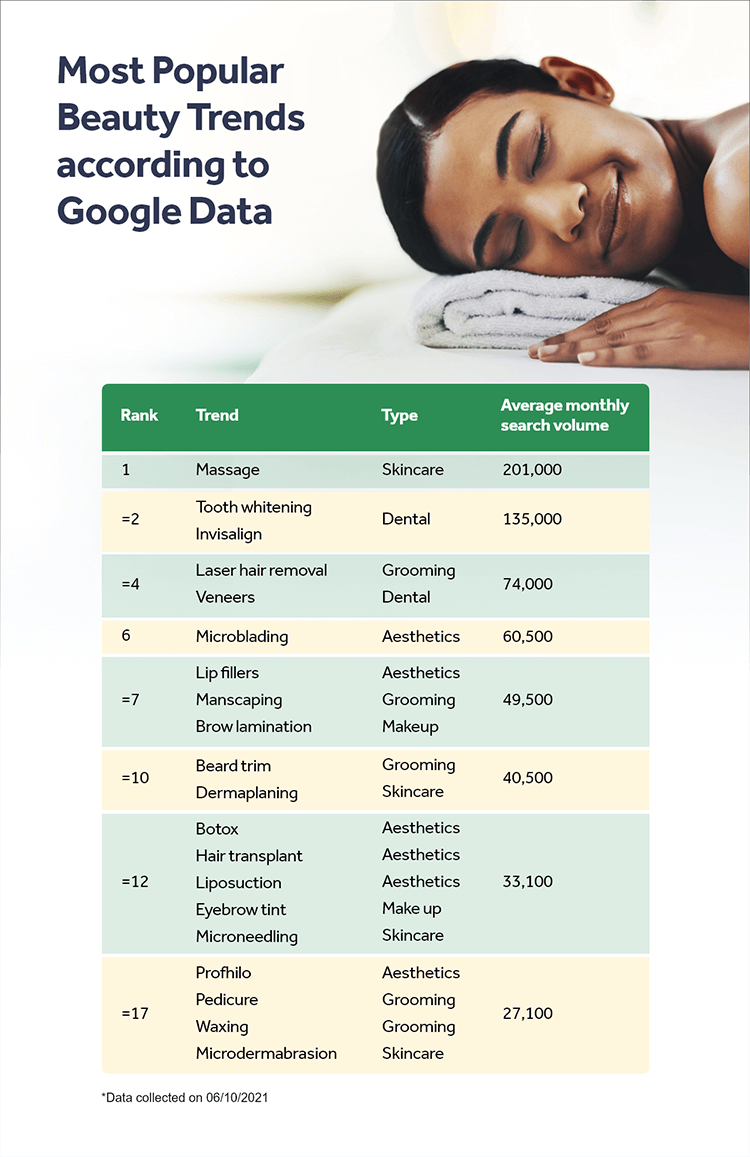 With an average monthly search volume of 201,000, massage claimed top position overall – maybe as a means of soothing those pre-wedding nerves. With 135,000 monthly searches, tooth whitening and Invisalign tied for second place (a great look for those wedding snaps and Insta posts.) Rounding off the top five was laser hair removal and veneers.
An array of other treatments forms the top 10 overall, including microblading, lip fillers, manscaping, brow lamination, beard trim, and dermaplaning, with each receiving more than 40k searches per month, on average.
Top trends by type
As well as looking at the top trends overall, we wanted to break down the findings by treatment type: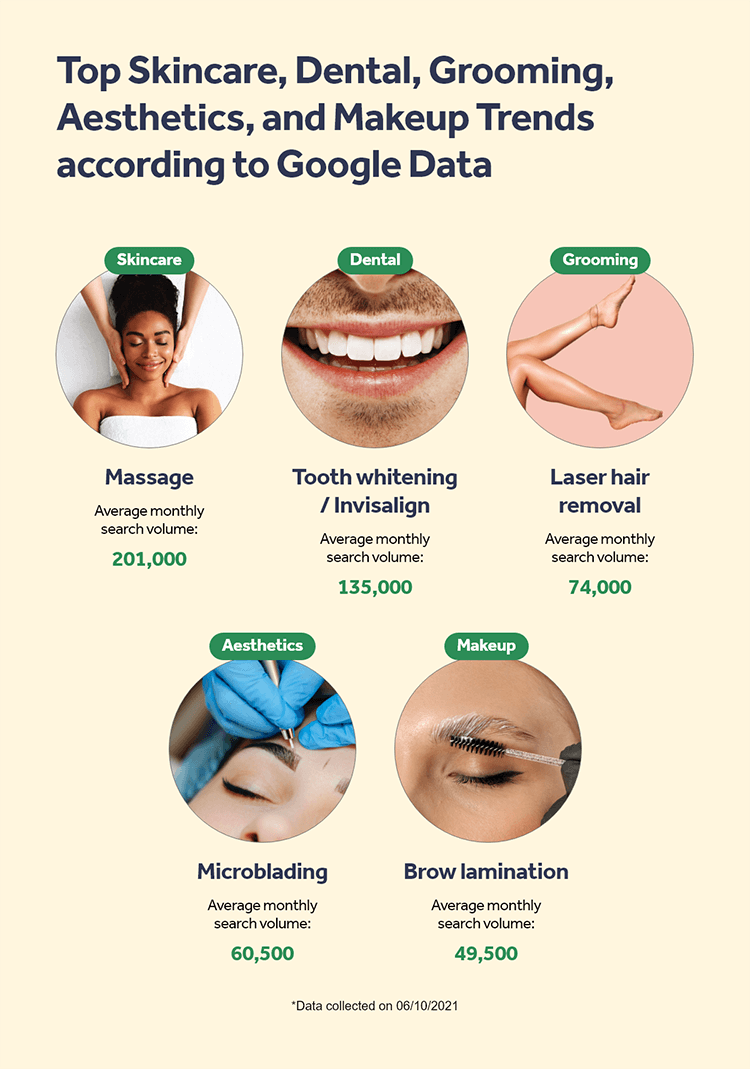 Across the five treatment types, massage, tooth whitening/Invisalign, laser hair removal, microblading, and brow lamination were the most popular overall. Read on for more findings from each treatment type…
Popular and emerging skincare trends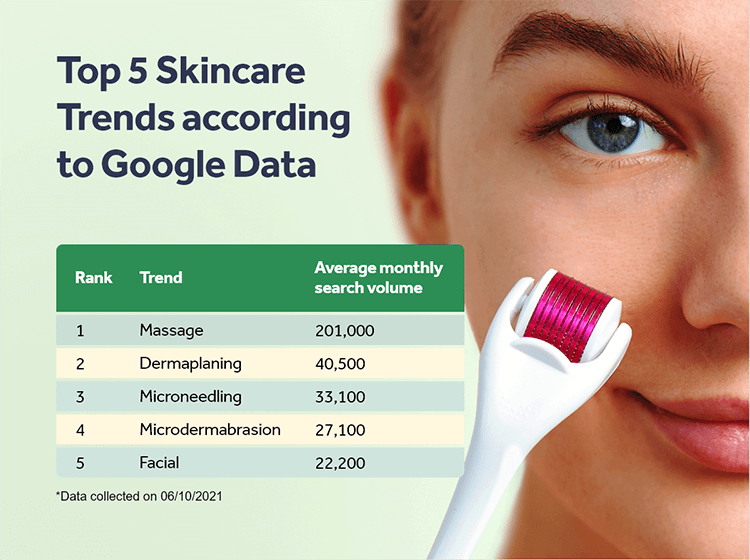 Skincare is the basis for any great beauty look, so we selected 31 skincare-related trends for our research. The top 5 included massage, dermaplaning, microneedling, microdermabrasion, and facials. Looking at ingredients, retinol, Vitamin C, and niacinamide-based skincare are having a moment, as well as a big focus on skincare that's microbiome friendly.
Popular and emerging makeup trends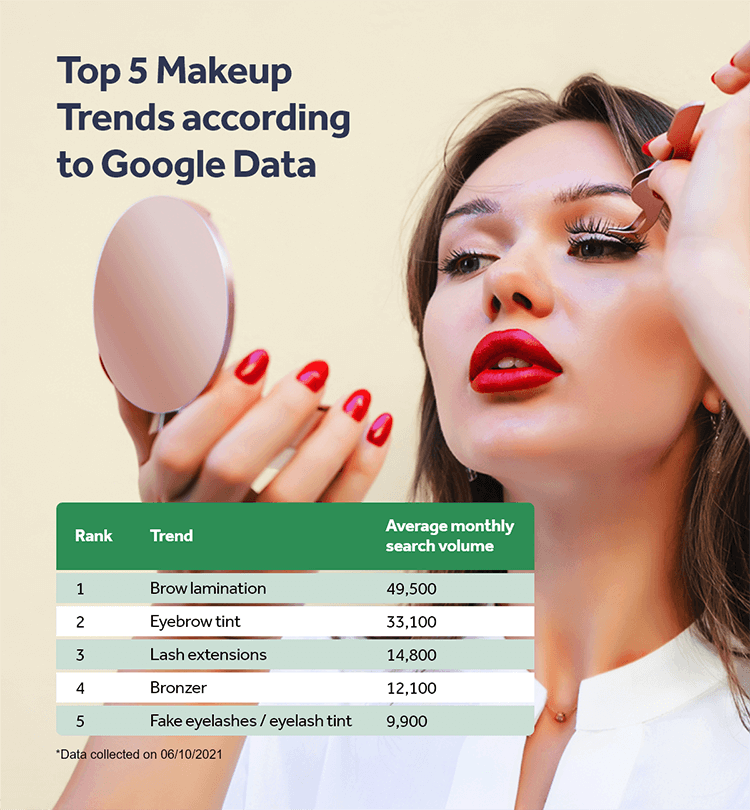 We picked 33 trends related to makeup, including lipstick, eyelashes, and eyebrows, as well as styles such as glam or natural. Brow lamination, eyebrow tint, lash extensions, bronzer, fake eyelashes, and eyelash tint were the most popular. Natural makeup has significantly more monthly searches than glam makeup (8,100 versus 1,900). Emerging trends include skinimalism (3,600), fake freckles (1,900), and fluffy brows (1,900).
Popular and emerging aesthetics trends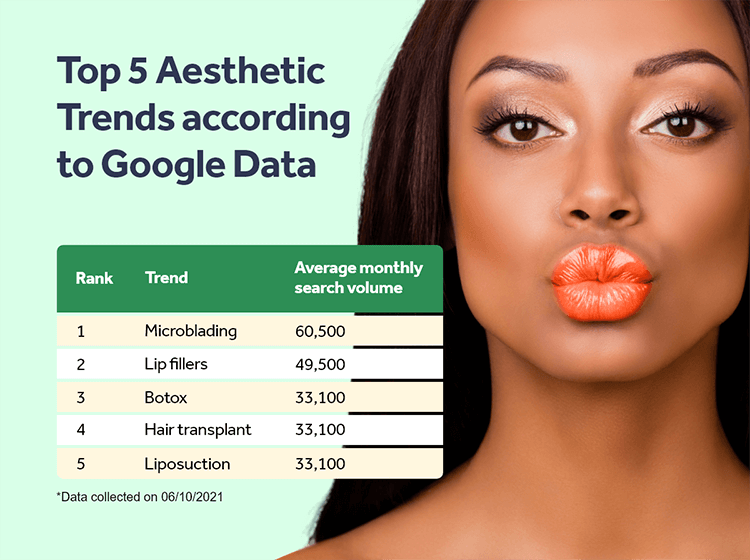 Microblading, lip fillers, Botox, hair transplant, and liposuction made up the top five aesthetic-related trends out of the 27 we examined. Closely following behind the top 5 were Profhilo, tattoo removal, chemical peel, dermal fillers, and lymphatic drainage. Non-surgical and non-invasive treatments, such as non-surgical brow lift and semi-permanent makeup (such as semi-permanent eyeliner, semi-permanent lip liner, and semi-permanent lip blush) have been emerging trends in recent months and are ones to watch for the future.
Popular and emerging grooming trends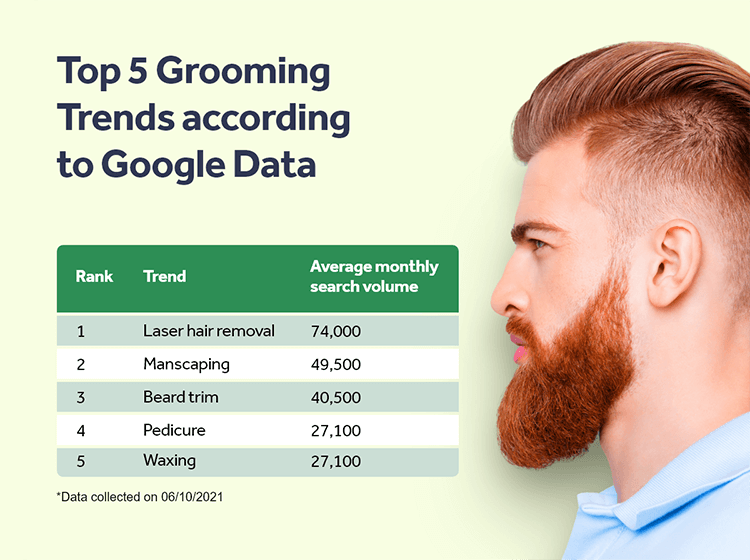 There were also 24 grooming-related trends in our research – laser hair removal, manscaping, beard trim, pedicure, and waxing made up the top 5. Ear candling, shaving, and beard oil followed close behind, with each receiving more than 18k searches per month. At the other end of the scale were more niche treatments, including nasal hair removal (720), hot towel shave (880), back, sack and crack wax (1,000), and ear hair removal (1,600).
Popular and emerging dental trends
We also included 3 dental-related trends – tooth whitening, Invisalign, and veneers. We found that when it comes to our pearly whites, lots of people are searching for these treatments every month (135,000 / 135,000 / 74,000 searches respectively).
Experts predict wedding beauty trends
After looking at search volume data, we then interviewed various industry experts, to predict how these trends might translate into the wedding industry for winter 2021 and spring 2022. Our expert panel highlighted 30 trends, many of which were corroborated by our own search volume research.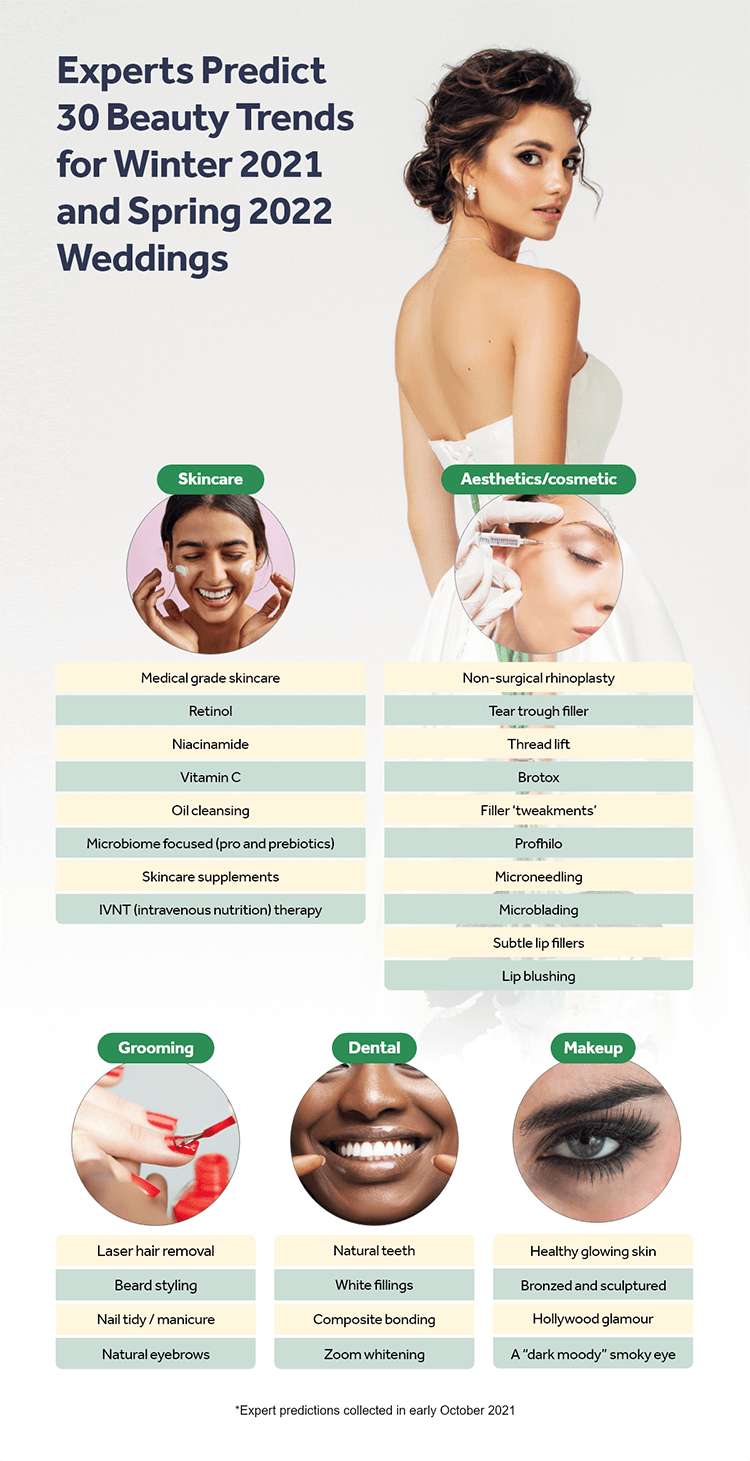 Wedding skincare trends
According to the experts, these eight skincare trends will be big for winter 2021 and spring 2022 weddings:
1. Medical grade skincare
"Medical-grade skincare – which contains science-based ingredients that are clinically proven to change the skin – is growing in popularity and could become popular for brides and grooms with longer-lasting engagements."
2. Retinol
3. Niacinamide
4. Vitamin C
"Since we are heading into colder months, expect to see products that contain retinol (a derivative of vitamin A), niacinamide (vitamin B3) and vitamin C (look out for the stabler version ascorbyl glucoside). All are great for balancing out our skin tone, pigmentation and texture, which if you have spent every waking moment in the sun this summer, you will definitely be needing."
5. Oil cleansing
"Expect to see an increase in oil cleansing, which is a kinder and gentler way to wash your face, removing dirt and cleaning your pores."
6. Microbiome focused skincare (pro prebiotics)
"Your microbiome is the invisible eco-system of microorganisms (bacteria, fungi and viruses) that live on your skin. An unhappy microbiome is associated with many major skin problems, so specific skincare can help minimise these concerns ahead of your big day."
7. Skincare supplements
"Skin is our largest organ, and the quality of our skin has so much to do with what we put inside our bodies, so supplements which are targeted to specific concerns can be a great way to give your skin the nutrients it needs."
8. IVNT (intravenous nutrition) therapy
"People are becoming increasingly interested in the benefits of intravenous nutrition – in particular, the skin brightening protocol, where a drip which contains vitamin C and the super antioxidant glutathione is given to brighten the skin. It is advised that brides start this treatment at least two months before the wedding, as the treatment typically involves weekly visits over a six-week period."
Wedding makeup trends
The experts shared that there are four main makeup trends that we can expect to see during the upcoming wedding seasons. These include:
1. Healthy glowing skin - 'skinimalism'
"Due to lockdown, people have become more obsessed with skincare, constantly wanting to achieve that perfect radiant skin – and they want this healthy youthful glow to translate into their wedding makeup. The 'understated' bridal look is a great option for those who don't usually wear makeup and don't want to look too heavy or cakey on their big day."
"Brides are often after that luminous glowing skin, which can be achieved by layering different serums, oils and moisturisers. Liquid highlighters will be popular for mixing in with foundation to add extra luminosity or tapped on the cheekbones for extra highlight."
"Hailey Bieber is the queen of natural glam – she made a very good point of not wanting to worry about it or have to leave the wedding party at any point for makeup 'touch ups'."
"Olivia Palermo's natural radiance on her wedding is something I still get asked to reproduce."
2. Bronzed and sculpted
"Jennifer Lopez, Emily Ratajkowski and Bella Hadid are also popular celebrities that brides show me as inspiration. Their glowing, bronzed skin and sculpted cheekbones are really aspirational for brides – plus it looks so beautiful against a white dress."
"In the winter months especially, my brides are all wanting healthy, bronzed skin."
3. Hollywood glamour
"A lot of my brides are going for a Hollywood wave at the moment and a red lip finishes off this glam style perfectly - a bolder and brighter lip colour is becoming more popular than ever."
"Priyanka Chopra started off the bold blush and red lip bridal trend."
4. A 'dark moody' smoky eye
"I'm also seeing more smoky eyes being requested. My brides have waited so long for their special day that they're wanting to go a lot more super-glam with their wedding make-up."
"More glamorous brides will often show Victoria's Secret models and similar looks as their inspiration – many of these have dark smoky eyes and full glam makeup looks"
"It's the next generation getting married now and they are more into makeup than previous – people want to feel glamourous on their special day, and a dark moody smoky eye draws even more attention to the eyes."
Wedding aesthetics trends
When it comes to aesthetic and cosmetic treatments, the experts shared ten trends predicted to see a boom in the run-up to winter 2021 and spring 2022 weddings:
1. Non-surgical rhinoplasty
"Non-surgical rhinoplasty has been growing in popularity over the years as a brilliant alternative to the more invasive surgical procedure. More commonly known as a non-surgical nose job, it is a fantastic and affordable solution for people who don't want to risk going under the knife. Unlike invasive surgical nose jobs, there is very little recovery time, meaning that normal activities can be resumed the same day as the treatment."
2. Tear trough filler
"Potential brides and grooms intending to marry in winter 2021 and spring 2022 will be interested in addressing a number of concerns to get themselves wedding-ready, including treating loss of volume under the eyes. There will be an immediate result with tear trough treatment, with some further improvement over the following two weeks, so it would be advised to have this procedure at least two weeks before the big day (but ideally more than 4 weeks earlier)."
3. Thread lift
"For more mature brides, a thread lift is a great subtle procedure to lift the skin. Instead of removing the patient's loose facial skin surgically, the cosmetic surgeon simply suspends it by stitching up portions of it. Depending on the technique, recovery can take three weeks, so keep this in mind when planning out your beauty regime in the months preceding your big day."
4. Brotox
"Brotox treatments – Botox, but specifically aimed at men – can reduce fine lines and wrinkles, helping grooms-to-be to look and feel better about their appearance ahead of their nuptials."
5. Filler 'tweakments'
"Filler 'tweakments' – which involve placing a small amount of filler across cheeks, chin, and jaw – are used to replace volume, and to balance and harmonise the face."
6. Profhilo
"Profhilo brings back natural rehydration to the skin and boosts collagen—something most face creams, serums and lotions cannot. Profhilo is a course of two treatments spaced four to six weeks apart, but the benefits for a wedding day are amazing."
7. Microneedling
"Microneedling, also called collagen induction therapy, offers fantastic benefits to getting and keeping your skin beautiful. Perfect for brides who want great skin on their wedding day. We advise starting six months prior to the big day."
"Microneedling treats the texture of the skin, improving the appearance of scars, as well as lifting and tightening the skin. The treatment should ideally take place at least three months before the wedding so that maximal results are achieved for the wedding."
8. Microblading
"SPMU (semi-permanent makeup) is a huge upcoming trend at the moment, and the demand for microblading, in particular, is at an all-time high."
9. Subtle lip fillers
"Rather than the Kylie Jenner lip filler look, many people come in for lip fillers once they have had Invisalign or whitening, as adding a small amount of filler to the lips can really change a person's smile and even the mouth out. We will see a surge in natural-looking lip fillers for spring 2022 as we step away from the duck pout and people want to go for a more natural-looking lip with a little bit of volume to help accentuate any teeth work."
10. Lip blushing
"Lip blush is becoming a lot more prevalent in recent times, which is a creating a plumper, younger-looking lip without the need for fillers"
Wedding grooming trends
Grooming is an important part of personal hygiene for many, and even more important ahead of your big day. Our experts shared four grooming trends that will be popular in the coming wedding seasons:
1. Laser hair removal
"Laser hair removal is a popular method for hair removal as it can have long term results – it is recommended to have at least four to six sessions but be aware that there's a range of different lasers which can only treat Fitzpatrick skin types 1 to 4 (the diode laser can treat Fitzpatrick skin types 4 to 6)."
2. Beard styling
"A clean-shaven groom may be the 'tradition', but I suggest that you wear your facial hair as you normally would on your big day. If styled right, even a full beard can feel formal – clean up the edges with a sharp razor and keep it looking polished (and nourished) with a good quality beard oil."
3. Nail tidy/manicure
"As your hands will likely be the focal point for at least some of your wedding photos, it's worth making sure you invest in a manicure (or at least a nail tidy, which typically includes trimming, cleaning, buffing, and cuticle clipping) in the days leading up to the wedding."
4. Natural eyebrows
"A trend expected to continue into 2022 are natural eyebrows – with not being able to go to salons, we've embraced our natural minimalist look and realised that it is better to invest in having nice, clean, healthy skin, rather than wasting time and money on having eyebrows that everyone can tell are drawn on."
Wedding dental trends
As one of the happiest days of your life, feeling confident in your smile is vital on your wedding day. As such, the experts shared 4 key trends that will be big for winter and spring 2022 weddings:
1. Natural teeth
"We are moving away from those pearly white perfect designer smiles that you see so much in the magazines and in Hollywood, and instead brides and grooms will be opting for a more natural look when it comes to teeth. Sometimes, bright white teeth can look a bit much in pictures and real life, especially if the person is known to have staining – opting for a natural, buildable white will be the trend for winter and spring 2022 weddings."
2. White fillings
"Unattractive, unsightly metal fillings are a thing of the past as with changing technology we are now able to add more subtle white fillings to people's teeth. Many people come in and ask to switch their metal fillings for white ones, this will be a huge trend for spring 2022 when brides and grooms-to-be come in and want to get rid of any metal fillings that could be seen in candid wedding photos or in real life."
3. Composite bonding
"Composite bonding is a great alternative to veneers if you are looking for a quick, easy, and more affordable way to fix any uneven or chipped parts of your teeth. We will most likely see many people coming in asking for composite bonding on the top four teeth to ensure that their smile is even. It is also really easy to colour match the composite to the natural colour of the tooth, which means it's even simpler to get that perfect smile."
4. Zoom whitening
"Zoom whitening is becoming increasingly popular due to the effectiveness and the short amount of time it takes. Tray whitening will still be popular, but we are seeing more and more clients have Zoom simply because results are instant and really amazing with many clients booking this treatment in before their wedding to ensure any staining or yellowing is removed."
Protecting your in-demand skills
If you're a beauty or aesthetics practitioner looking to get the inside edge on the next big trends to offer clients this upcoming wedding season, then hopefully this research provides you with plenty of inspiration and ideas.
Although, even if you're confident you have all the skills you need to deliver a great look, it's a fact of life that things don't always go according to plan. So, before pushing the 'go' button for a new look or service, be sure to do the proper research. And get on board with any training, of course.
That doesn't mean mistakes and accidents will never happen though, despite your best intentions. And unfortunately, they can prove both expensive to fix and damaging to your hard-earned reputation.
That's why it's a good idea to protect your business with treatment liability (also known as medical malpractice) insurance. It covers your legal and compensation costs if there's a claim you injured someone, or results weren't as expected. Claims like these can run to many thousands of pounds.
Our beauty therapist insurance and aestheticians' insurance provides specialist cover for beauty therapists, make-up artists, nail technicians, aestheticians, and providers of other salon treatments and cosmetic procedures. Click on the links to find out more. Or call the team on 0345 222 5391.
With thanks to eight industry experts who gave their predictions for this article, including:
* Google search data collected on 06/10/2021 and based on 12-month averages between September 2020 and August 2021
Image used under license from Shutterstock
beauty therapists