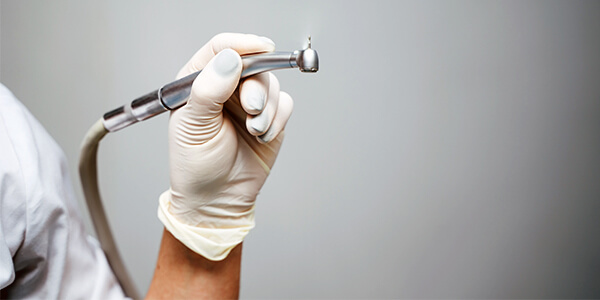 Ask an American what they think of the British, and besides making vague references to bowler hats and cream teas, they'll tell you we have bad teeth.
That one's closer to the truth, because compared to the US population, we do.
And it's not just that we're less partial to whitening and flossing than they are. It's also because we don't visit the dentist as often.
According to the British Dental Association, seven in 100 of the UK population never go to the dentist. And although the rising cost of dentistry has a role to play, one in six of those people say it's because they're simply too scared
Why are we so afraid of the dentist's chair?
It's thought that one in 10 UK adults have a serious fear of the dentist.
Mostly, it's the association with pain that causes the fear ­– although in reality, anxiety over a visit only stands to make the pain worse. Stats suggest tension can make people up to four times more likely to experience pain at the dentist.
But everything about the dentist's surgery combines to play on our greatest fears. First, there's the prospect of unfamiliar implements in your mouth – some of which aren't too dissimilar to power tools.
Then there's the sights, sounds and smells of the dentist: the anaesthetic needle, the drilling and scraping, and the whiff of antiseptic. It's enough to put anyone off.
Not to mention the lack of control and the rising sense of panic when you're lying prone in a chair with a drill in your mouth. Or the choking sensation that comes from not being able to swallow as normal.
Ways to make it easier on ourselves
If you're one of those people whose fear of the dentist is preventing them from going for a regular check-up, then there are some easy ways to help yourself. The NHS offers the following tips:
Find a practice that specialises in dealing with nervous patients.
Visit the dentist's surgery before making your appointment, so you can look around and feel more at ease with the surroundings.
Don't be afraid to tell the dentist your fears – they can help make you feel more comfortable if they know what scares you
Put yourself in control by agreeing a signal with the dentist for them to stop if you need a break.
Make sure you book the first appointment of the morning, so you won't spend the whole day worrying about it beforehand.
Start with a check-up and build up to any required treatments to make it all less traumatic
Finally, take someone with you for moral support or take headphones and listen to music to help you relax.
When bad oral health means serious problems
Let's face it, there can't be many people who actively enjoy going to the dentist. But for some, the fear is so extreme it's classed as a medical phobia. And people with a severe form of it may never visit the dentist at all.
But there's a very serious side to not going to the dentist. Because not having regular check-ups can lead to serious health issues. Gum disease and tooth decay can cause rotten teeth which, if left untreated, can lead to abscesses, infections and even sepsis.
There are wider implications too, since the bacteria associated with gum disease have even been linked to heart disease, diabetes and Alzheimer's.
That means oral health isn't something to be be ignored. If things go wrong, a tooth infection can eventually cause death, after all. And even milder symptoms of poor dental care like toothache and bad breath are troublesome – for all concerned!
Prevention rather than cure
One way that employers can encourage staff to invest in good oral health is by adding a dental option to the health care cover they provide. It acts as an incentive for employees to schedule regular check-ups and seek treatment for problems before they get serious.
Even the nervous ones.
You can find out more about Equipsme healthcare and wellbeing plans here.
health and safety