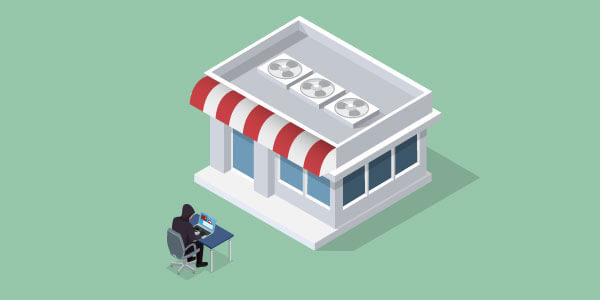 Under the radar?
Despite the Federation of Small Businesses' recent warning that cybercrime costs small businesses £800m a year, there's still plenty of scepticism about the threat hacking poses.
"It won't happen to me" is a common response.
As is: "My business is too small. No one's interested in attacking it."
And to a certain extent that's understandable.
If you're a small design agency, accountancy firm or IT consultancy for example, why would anyone take the time and trouble to target you?
After all, you're not mixed up in high finance or linked to any government agencies. So what's in for them?
Besides which, if someone does get into your system, it's not that big a deal. All you have to do is hire a guy to patch things up and change some passwords. No need to panic.
Except, unfortunately, that isn't really the case.
Spot the indifference
Times have changed. The idea of a lone hacker, sitting in his bedroom, showing off to his peers and being a low-level nuisance is as outdated as last year's antivirus software.
Today's hackers collaborate for a greater cause: money. Their groups are sophisticated, well equipped and, in some cases, government funded.
There's a massive – and growing – criminal market for logins, passwords, bank account info, medical records, credit card data etc etc. One or two names and addresses aren't worth much on their own, but getting thousands in one go is a lucrative strategy.
The reality is that hackers aren't after just your data – they're after your clients' too. Small businesses that don't take online security seriously are easy targets. Cyber criminals know that and they see complacency as a free pass to something bigger.
And a free pass is exactly what it is. A little bit of malware here and there can see your confidential info (client contact details, websites etc) walking out the virtual door for now't.
Worse, that same malware can make its way through your system and do the same thing to clients' clients. And so on and so on.
Oh, and they'll pinch your employees' easily-got-at data and passwords while they're at it, too. Hackers know that most people use one or two passwords for pretty much everything; from logging on to work PCs to accessing their online banking. Humans are almost always the weakest link.
Security reboot
The truth is that no company is safe. Including yours.
Even if you've had the foresight to get cyber insurance, an attack will leave your business reeling. Your insurance can help fix things and keep you up and running of course, but security breaches are time-consuming, inconvenient and expensive to recover from – in any circumstances.
As always, prevention is better than cure. There are things you can do to make life more difficult for Johnny Hacker and his unscrupulous mates. We might not be able to stop them but we can sure slow them down a bit.
It goes without saying that you should:
Make sure passwords are changed regularly. Encourage staff to make them as different and as complex as possible.
Keep your antivirus and security software up to date, and always on.
Secure your wireless network.
We'd advise reading the government's '10 steps to Cyber Security' for a more in-depth look at what can go wrong and to find out how best to protect your business. Page seven has lots of handy advice on basic risk management.
We'd also advise investing in some professional help. It's difficult to know where to start but a specialist security consultant should be able to save you time, money and hassle in the long-term.
It is a war out there. But at least you have a chance of winning the battle.
cyber liability insurance
managing risk