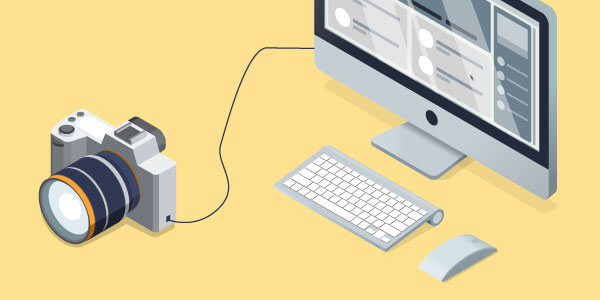 When a photographer headed into his studio and spotted a USB stick on the floor, he assumed either he must've dropped it or his assistant had.
But that was an unfortunate assumption. In fact, it belonged to his teenage son who'd used it to upload and download files while sharing games, working on homework projects and listening to the latest grime tracks with his mates.
And the really bad news was that along the way, that USB had picked up some nasty malware. Malware that spread to our photographer's computer as soon as he plugged it in, sending his whole system into meltdown.
Overexposed
Now, as we know, these days a photographer isn't only as good as his camera skills. He's also only as good as his photo-editing skills.
And without access to his clients' details, the images stored on his PC and the programs he used to magically transform them, this photographer's business was well and truly in shutdown.
Worse was that the malware was viciously potent, and had wreaked havoc. Files were either badly damaged or had disappeared altogether.
And although our photographer backed up regularly, this was a Monday. He'd done a big job over the weekend – a wedding where the bride was also the daughter of a close friend – that had no backup whatsoever. What would he tell them?
How photographers' cyber insurance helped
That's when our photographer's cyber insurance snapped into action, helping to put things right. The remedial plan of action went like this:
First, the photographer was furnished with a new computer and software so he could get on with his day-to-day work. That meant all upcoming jobs could be completed as if nothing had happened, keeping clients happy and income rolling in. Business as usual, then. Cost: £2,800.
The photographer's infected computer was taken away for its hard drive to be analysed by experts, who managed to recover some of the data. Most importantly, they succeeded in saving the wedding shots. Cue a happy couple, who consequently felt no need to sue for damages to their perfect day. Cost: £1,600.
Total cost: £4,400.
Picture the scene
While there are undoubtedly more expensive and disruptive cyber-attacks out there, it's all relative. Just because it doesn't make the news doesn't mean it's not significant.
This one cost around 15% of the photographer's annual turnover and had an immediate negative impact on his business.
That's a whole lot of hassle and expense caused by one innocent-looking USB stick. And although it sounds bad, it could've been a lot worse.
Think of the loss of revenue and reputation he'd have suffered from not being able to fulfil booked-in jobs in the days ahead.
And don't forget the potential for a claim for damages from the wedding couple, had their shots not been brought back from the dead. This would've been covered by his professional indemnity insurance, sure, but it's still another problem to deal with.
Luckily, the photographer was the cautious type and had invested in cyber insurance. So, thanks both to his foresight and his insurer's snappy reaction, everything turned out pretty much picture-perfect.
Read more about what is cyber insurance and what it covers. Or get a quote online.

Image used under license from Shutterstock.
cyber liability insurance
photographers