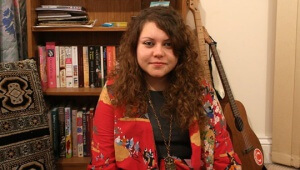 Lauren's Freelancing story

As part of our Next Generation campaign, we spoke to Lauren Razavi, a graduate entrepreneur who's taken the plunge into self-employment.
Lauren became a freelance journalist while she was studying for her undergraduate degree. Here's her take on the support available for students, and on being her own boss …
What made you decide to go freelance?
Freelancing was something I slipped into while I was studying as an undergraduate. I was keen to build a portfolio of writing work, as well as learn how things operated within professional journalism. These part-time freelance pursuits were a success, and I was able to self-fund an MA by continuing and building on them – though I was working full-time hours alongside a full-time postgrad course! When I finished studying, it made more sense in terms of both finance and lifestyle to continue freelancing. I'm now able to travel and write, and I regularly work for some of the biggest names in the industry including The Guardian, VICE and the BBC.
What was the level of support from your university careers department like?
The careers department at the University of East Anglia, where I completed both of my degrees, are absolutely brilliant. I was always quite independent in pursuing freelance work and developing my career options, but the careers department staff were always very supportive and attentive. Since graduating, I've been invited back to speak at conferences and deliver workshops for them semi-regularly, which I think well-demonstrates how switched on they are in terms of connecting current students with recent graduates, and making the most of their alumni – whether those alumni be a couple of years or several decades into their careers.
What are the best and worst things about freelancing?
The best thing about freelancing is definitely the independence and flexibility. For example, I'm writing to you from a coffee shop in Bali, Indonesia, after spending two weeks based at a coworking space in Delhi, India. My work allows me to work from wherever I choose, and I'm able to take a day off to go exploring whenever I want. Something else I love is being able to pursue the stories I believe in; because I work for a range of different publications and broadcasters, I'm not restricted by one editor's decision. That's really liberating and rewarding.
The worst things about freelancing are practical and often admin-related. There's a lot to worry about as a self-employed person; from invoicing to annual leave, it's all your responsibility to deal with as a small business owner. I have to work extra hard for a couple of weeks to take time off, as going on holiday or being off sick means I don't earn a penny. I have an accountant to help with things like tax returns and VAT, but I still have to learn about changes in legislation, manage my profits and losses, keep meticulous business records and chase up late payments.
How do you promote yourself and find work?
In terms of promoting myself, I'm very active on social media (mainly Twitter, Facebook and Instagram) and I have a website and a blog where I showcase my work. I think it's important to remember that promotion is always two-fold: my digital presence shows potential clients what I do and who I work for, and it also attracts and keeps the interest of my readers, viewers and listeners. Both are equally important in sustaining a freelance career, especially in the age of the Internet and given the challenges and opportunities of the digital media landscape.
Over the last six months, I've reached the stage where editors approach me to do work for them, which feels like a significant achievement less than a year after leaving university. But the majority of my work still comes through pitching editors, whether they're clients I've worked with before or brand new contacts. As I mentioned above, this is one of my favourite things about freelancing: because I can pitch to any outlet, I'm not restricted by the decision of one editor or one publication if I want to tell a particular story.
I've also experimented with crowdfunding this year, mainly through independent journalism platform Contributoria, which is a member of the Guardian Media Group family. I find their approach innovative and exciting because it's audience-led and collaborative. The basic concept is a monthly digital magazine where members decide what is commissioned, and where readers and writers can suggest edits on story drafts before they're published. I think audience-led media is something we're set to see much more of in the future, and Contributoria is at the forefront of this new movement.
How do you stay focused and avoid procrastination?
It's a constant battle! Most freelance journalists will tell you that the house is cleaned, the cat is fed twice, social media is exhausted and many unnecessary cups of tea are consumed in a day's work. I used to struggle a lot and feel like I was failing as a freelancer during these bouts of procrastination, but I've learnt that it's a natural part of everybody's day – whether you work from home or in an office.
I've found the best way to stay focussed is to accept that you're going to have good weeks and bad weeks, and to work when you're in the right frame of mind rather than trying to force it when the creativity just isn't flowing. Freelancing allows you to do this in a way that a traditional job doesn't; sometimes I'm up and working at 6am, and other times I start my day around lunchtime and work until late in the evening.
What's the weirdest thing you've ever had to do as a freelancer?
I find there are lots of weird requests and opportunities in freelance journalism, so much so that it's quite difficult to think of specific examples! I recently did a job for The Weather Channel in the US that was pretty unique: it required me to live stream the streets of Calcutta using my smartphone and provide a talkover describing the monsoon weather. I was contacted with half an hour's notice, had a brief phone conversation with their office and completed the job at midnight local time, still decked out in my stunning flannel PJs.
On a more serious note, I've seen and experienced a lot of difficult-to-swallow things while working abroad in the developing world. Political corruption, extreme poverty and unabashed sexism are a just a few examples of the problems people face, and it's eye-opening to be working on stories that expose you to these realities. But helping to tell the stories of everyday people and highlighting the failings of national governments and international actors is part of what makes reporting from these places so important. Though the knowledge that I'm doing meaningful work doesn't make it any less heartbreaking when local people tell me it's their dream to move to the UK, and ask if I can offer them a job or help get them a visa.
Thanks, Lauren!
Are you a graduate entrepreneur?
We'd love to hear your story. Tweet us @PolicyBee. Don't forget to use the hashtag #TheFreelanceWay.