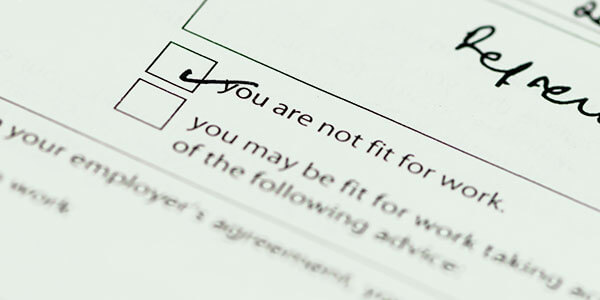 2017 saw British workers take the lowest-on-record number of sick days. Good news, you'd think. But the stats don't tell the whole story.
Because, according to a joint 2018 Health and Wellbeing at Work survey by the Chartered Institute of Personnel Development (CIPD) and Simply Health, the number of people coming into work when they're ill has more than tripled since 2010.
Not such good news after all, then. In fact, this putting-on-a-brave-face, no-I'm-fine-really thing is enough of a problem it's got a name: 'presenteeism'. It's also clear it's a far more complex problem than it first appears.
And, given those rising figures, it's likely presenteeism will affect your business sooner or later. So what can you do about it?
Productivity threat
A quick explanation first.
'Presenteeism' originally described employees coming into work when not physically or mentally able to, but doing so anyway for fear of losing their jobs.
However, it's now expanded to include people disengaged with their job and not 'present' in the workplace, too.
That CIPD survey showed 72% of organisations asked had experienced presenteeism over the past 12 months, with a further 29% saying they'd seen the issue increase. A massive threat to UK productivity, it's become a key issue for organisations wanting to look after their staff's wellbeing and maintain a functioning business.
Business disruption
Research shows people are significantly less productive when they're unwell. They're also a hazard to their co-workers – passing on their illness makes a bad situation worse for everyone.
And then there's those who are 'disengaged'. They're more likely to be careless with their tasks, making more mistakes than 'engaged' employees. Morale could be an issue here too, with a negative atmosphere dragging colleagues down.
Both circumstances lead to problems that impact the quality and volume of work your business produces. You'll have no choice but to fix those problems, but that means disruption. And disruption means expense.
It makes sense to spot those problems before they happen and lessen their impact. But how do you find the root causes?
This is actually pretty simple: issues start when employees' welfare is ignored and more pressure is applied to them to perform.
The CIPD found presenteeism was common in companies encouraging long working hours and prioritising general demands over staff morale. Concerns over job security, a lack of sick pay, a fear of being seen in a negative light (looking lazy or slacking) and/or a heavy workload were the main reasons for people coming into work when ill.
Presenteeism prevention
So it's important to tackle presenteeism quickly and positively. But how and where do you start? Here are five ideas:
Do you encourage staff to take time off? No? Maybe you should. We all get sick, but you shouldn't encourage staff to come in when they're under the weather. Allow them to recuperate at home.
Review your sick pay policy. A hard-line policy or one that appears to encourage 100% attendance may actually cause more problems in the long run.
Find out why staff are disengaged. Identifying the problem means having to come up with a solution. Ask staff to complete a regular and anonymous satisfaction survey to highlight areas that might need addressing.
Focus on employee wellbeing as a whole. The CIPD survey showed 57% of employees would stay in their job longer if there was more effort put into their wellbeing. If these measures were in place, 58% said their work would be of higher quality.
Consider an employee health insurance and wellbeing support plan. A package such as Equipsme is a cost-effective benefit that helps address staff absence through both prevention and cure. It does this by giving employees things like 24-hour GP access, diagnosis and treatment, physio, and damage-limiting stress support. It's designed to ease the frustration and anxiety of waiting for treatment while speeding up their recovery.
These simple measures can help you to reduce the problem of presenteeism while putting the welfare of your staff – the most important part of your business – first.
managing risk
running a business