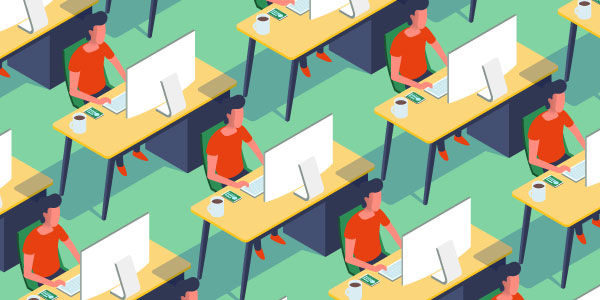 Are you sitting comfortably?
Small business are all too aware of external pressures.
We all know the economy's not looking too perky at the moment; experts are speculating that the current US federal shutdown could impact economies worldwide if it continues.
Closer to home, things like cybercrime are costing small businesses millions each year, while UK retail and manufacture have seen an unexpected drop over the last few months.
Clearly, there's not a lot that you, the small business, can do to stop these external factors messing things up. Yes, you can take steps to limit the damage but, really, it's out of your control. Sorry about that.
Think inside the box
However, there are lots of things which you can control to make your business more successful. Unsurprisingly, a pleasant and comfortable working environment increases the general wellbeing and productivity of employees.
A recent study by the University of Exeter has found that something as simple as putting plants in an office can improve employee wellbeing by up to 47%. If it all sounds a bit happy-clappy to you, remember that keeping employees happy and healthy decreases sick leave significantly, saving you money. Interested? Keep reading.
Different workplace layouts can also have a significant impact on a business's productivity and mentality. Multiple studies have concluded that open-plan offices are not the best environment for productive working.
Unfortunate, considering that most modern businesses are set up in this way (including PolicyBee HQ).
Open-plan offices are meant to create a sense of community between colleagues, but many people simply find it distracting. There's no escape from the incessant phone calls and impromptu desk based meetings of your co-workers. There's also very little privacy available for conversations best kept confidential; this lack of privacy could also inhibit shyer employees from sharing any bright ideas in front of a large audience.
Hot-desking is another business solution that has cons as well as pros. If you're not familiar with the term, hot-desking means that instead of every employee having their own personal desk, all work spaces are free for anyone to use. As well as saving valuable space, the thinking is that this system eradicates office hierarchies and territories: all desks are equal.
However, hot-desking isn't always the modern and streamlined solution you'd hope. Yes, it does get rid of a lot of clutter from the workplace, but some people do value their picture of their cat or a five minute Rubik's cube session.
Plus, hot-desking can make employees more vulnerable to illnesses: germs are spread more freely throughout the office. Yuck.
Bright ideas
But don't go thinking you need deep pockets to make a difference.
If you work in an open-plan office, here are a few tips which cost next to nothing and can make the daily grind more tolerable for both you and your co-workers.
Your telephone ring. Is it unnecessarily loud? Turn it down, and asses the volume of your 'phone voice' while you're at it. Always turn your phone to voicemail if you're going to be away from your desk; there's nothing worse than a constantly ringing phone. If you have your mobile phone on at work, set it to silent.
Meetings. Can be distracting for those around you – always try to use a meeting room instead. If your office has a swanky glass meeting room, always remember to close the blinds when confidential information might be on display. The same goes for potentially sensitive meetings and interviews.
Natural light and fresh air. More please. If you have air con, make sure it's set to a stable and comfortable temperature for everyone in the building.
Eating at desks. Try to avoid foods which smell strongly and/or make a mess. Save that curried goat till you get home.
It may sound like some sort of propaganda slogan, but happy employees really do make a business more successful. At the very least, always make sure you've got enough tea bags.
cyber liability insurance
productivity tips
running a business