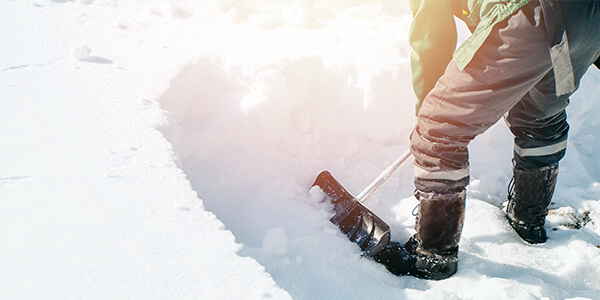 If you believe recent reports, we're in for another hard winter.
To be honest, you could be forgiven for raising an eyebrow and taking this news with a pinch of salt.
Remember the glorious 'barbeque summers' of 2010 and 2011 so confidently predicted by the Met Office? No, neither do we.
Still, they seem pretty certain this time. Boffins say it's all to do with a lack of UV activity from the sun, or something, so it must be true.
If you're prepared to give them the benefit of the doubt and accept we're in for a chilly few months, you should start thinking about how to keep your business up and running if and when the weather hits.
It'll be worth it too. At one point, the estimated cost of wintry disruption to small businesses last year was thought to be around £230m each day.
With the economic climate as hostile as the winter one, that's an expense none of us can afford.
Put some thawed into it
Taking some simple measures now means you should be able to operate in all but the most severe conditions.
There are two aspects of this to think about: your people and your premises. Any business will find it very difficult to function with either or both of these things out of commission.
This should get you started:
If you have the means, prepare a second premises to serve as a temporary office if you or your staff can't get to your usual one. Make sure you can back up and access your files from the second site, and put together a continuity plan for everyone to follow.
Investigate remote working for your staff. Useful technology is everywhere so why not use it? Google Docs and other cloud-based systems make working from home easy and cost-effective, and they could mean bypassing problems such as unnecessary travel and lost working hours altogether.
Remember your responsibilities as an employer. Although the onus is on the employee to do what they can to get to work, be wary of forcing people to travel in dangerous conditions. Consider a 'bad weather policy' that sets out exactly what's expected of both you and your staff in the circumstances, and make sure it covers issues like pay and holiday entitlement if workers have to stay at home.
Conduct a risk assessment of the areas outside your office (paths, car parking etc) and grit them if necessary. Employees and visitors to your premises could claim against your business if they slip and hurt themselves. Make sure you have both public liability insurance and employers' liability insurance in place to cover claims, just in case.
Get your heating system serviced and think about getting some emergency heaters too. There's no point making sure the outside of your office is OK, only to send everyone home because it's freezing on the inside.
Think about a good business interruption insurance policy. It can help with the costs of disruption and gives cover for lost income if you're scuppered by, say, a burst pipe or if access to your office is blocked.
Cold comfort
If you were caught out by the weather last year, you should be more prepared this year.
Doing something about it now will help get you thinking about your business, and what you can do to keep it ticking over. (It wouldn't hurt to implement some of these as part of a 'normal' disaster recovery plan too by the way.)
Granted, you could be braced and ready for something that doesn't actually happen. But it makes sense to do what you can now rather than take a chance and see your bad luck, um, snowball …
Image used under license from Shutterstock.
business interruption insurance
managing risk
office insurance