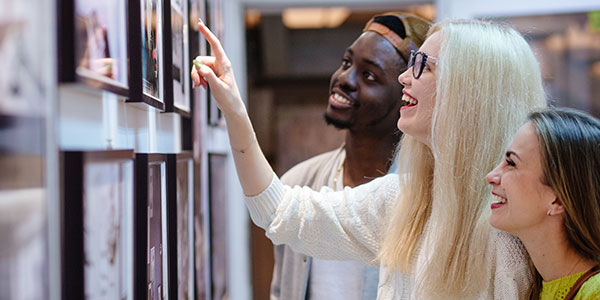 Photo competitions are a great way to get your work out there. Winning one isn't just about the cash, it's about the kudos and can be a big confidence boost. Plus, the recognition can help get you grants, funding and commissions for work.
But even if you've been a pro photographer for years, we're guessing there are times when you feel you're in a creative rut. And having to focus so much on the business side of things can make you forget why you fell in love with photography in the first place.
Want your passion for making pictures back? Enter a photographic competition.
Got to be in it to win it
Even if your work isn't featured, photography comps are a way to keep pushing yourself and growing. Entering one outside your usual niche might even give you a whole new perspective on your business.
Photo competitions are everywhere. Many of them charge a nominal entry fee, but contests like The Smithsonian are free. Be aware though, that just as there are lots of credible ones, there are plenty of scammers, too. Before you give one a go, read the small print. If the organisers are insisting on full rights to your images, steer clear.
Here's a list of photography competitions worth looking at...
A-Z of photo competitions
Art of Building Photography competition
An international competition, run by the Chartered Institute of Building, this one's open to professionals and amateurs. Celebrating buildings and the relationship people have with the built environment, categories include Architecture, Conservation and Heritage, and Human Interaction.
Entering is free. The winner gets £3,500 cash and the title 'Art of Building Photographer of the Year'.
British Institute of Professional Photography Awards
The BIPP awards are open to professional photographers. International, as well as regional competitions, are held annually and there are also student and college awards to encourage emerging talent. Info on how to enter is on their website.
British Journal of Photography Breakthrough Award
Another one for emerging photographers and new talent, the BJP Breakthrough Award is open to BA and MA students as well as graduates within the last five years. (Your degree course doesn't have to be in photography.)
The prize is an exhibition in London and publication in BJP. Winners get a portfolio review session and reprint, networking advice and can sell their prints through the BJP website. Copyright remains the photographer's.
British Journal of Photography Portrait of Britain Award
Open to professionals and non-professionals. Winners' (100) and shortlisted (200) photographers' work is exhibited in a huge global exhibition, on social media platforms and in BJP magazine. That makes it one of the photo competitions with the best reach.
Cost to enter: 1 image £10, up to 10 images £35. Copyright remains the photographer's.
British Wildlife Photography Award
Sponsored by Canon and the WWF, among others, the BWP Award celebrates the diversity of Britain's natural flora and fauna. There are 15 categories, including Animal Portraits, Animal Behaviour, Coast and Marine, and Hidden Britain. Videographers are also invited to enter the HD video section.
There's a top cash prize of £5,000 and all winners' work is featured in a national touring exhibition and a book. Each adult category winner for still images wins a prize valued at £1,000. Wildpix winners (young people) are awarded £300-500.
Entry is free for up to six images for all young photographers. Entry for all other still photographers ranges from £10 for one image to £40 for 40 images. Video entry is £10 per clip.
HCB (Henri Cartier-Bresson) Award
Presented by the Fondation Henri Cartier-Bresson, the HCB Award supports creative photography projects which, without its funding, simply wouldn't be possible.
The HCB grant of €35,000 is awarded once every two years to a photographer who's already completed a significant body of documentary-style work and who's backed by an institution – a museum, publisher etc.
IPA - International Photography Awards
One of the biggest annual photo competitions, its categories include advertising, architecture, fine art, moving images, nature, people, sports and editorial. Entry fees (per image) range from $15 for students to $35 for professionals. But the revenue from submission fees goes to the Lucie Foundation whose mission is to honour master photographers, discover and cultivate emerging photographic talent, and promote the appreciation of photography worldwide.
The top award is the Lucie Trophy and a $10,000 cash prize. For other awards see the IPA website. Each year the IPA exhibits 45 images from both the professional and non-professional pools of 1st, 2nd and 3rd placed entrants in New York. The show then travels globally. Copyright remains the photographer's.
The Independent Photographer Competition
This is a monthly, global competition open to anyone over 18 years old. Entry currently costs from $20 for one image to $40 for five images. First prize is $1,000 and, as well as online global exposure, all finalists' work is published annually in a book. Copyright remains the photographer's.
International Garden Photographer of the Year
Run in association with the Royal Botanic Gardens, Kew, IGPOTY is a global competition and exhibition of garden, plant, flower and botanical photographic work. There are 11 main categories including Breathing Spaces and Greening the City, plus numerous special awards like Young Garden Photographer of the Year. There's even a mobile-only category – Gardens on the Go.
An exhibition is held annually at Kew, then tours the UK before going global. A hardback, limited edition book of the exhibition is usually produced each year.
An entry fee of £12 for 4 single images or £25 for a portfolio (6 images), is charged to help cover admin costs. There are no restrictions on entry and you can request feedback after judging's finished. There's a cash prize of £7,500 for the best overall single image and £2,000 for the best overall portfolio.
Landscape Photographer of the Year
Founded in 2006 by Charlie Waite, 'Take a View' attracts entrants from all walks of life and skill levels. There are four main categories: Classic View, Living The View, Your View and Urban View. The best images get displayed at Waterloo train station and in a book.
Entry fees for adults range from £10 for a single image to £35 for up to 25 images. Entrants under 17 pay a flat rate of £5 for up to 20 images. Copyright of each image is retained by the photographer.
A single, best image from all four Adult categories is awarded 'Landscape Photographer of the Year' and £10,000. The prize for the best image from each of the four categories is £1,000 with £500 awarded to each of those coming second.
This is an international award given to professional photographers whose 'powers of observation capture and express the relationship between man and the environment in the most graphic form in a self-contained sequence of between 10 and 12 images'. Only one entry per photographer is accepted.
The winner of the main category gets a cash prize of €10,000 and a Leica M camera with a lens worth €10,000. Ten finalists are also awarded a cash prize of €2,500.
There is also a newcomer award for prospective, professional photographers under 25. Copyright remains the photographer's.
One of the only photo competitions specifically for black-and-white imagery, the Monochrome Awards are open to both professional and amateur photographers. Anyone over 18 can enter and there's no limit to the number of individual images you can submit.
The overall winner of the professional section gets a $2,000 cash prize, the title 'Monochrome Photographer of the Year' and their work showcased in the online winners' gallery and an annual book. The winner of the amateur section gets $1,000 and the title 'Monochrome Discovery of the Year' plus their work showcased in the online gallery and book. Copyright remains the photographer's.
National Geographic Travel Photographer of the Year
The judges are looking for images that tell the story of a place and travel moments that inspire others to explore the world. One grand-prize winner gets $10,000 and two, first-placed winners get $2,500.
It costs $15 per entry for a single photograph, but there's no limit on the number of entries. Categories are nature, people and cities.
Pink Lady Food Photographer of the Year
An international contest for food snappers, the winner of Pink Lady Food Photographer of the Year gets £5,000. All types of food imagery are welcome, whether commercial, humanitarian or just plain mouth-watering. And there are all kinds of categories – food-film shorts category, food blogger of the year, student photographer of the year, as well as the Fujifilm Award for Innovation.
For £30, adults can enter up to 5 images. Further entries are an extra £6 each. However, if you're under 18, entry to the young category is free. Finalists' images are exhibited at the Mall Galleries in London, displayed on the website and printed in the catalogue. Copyright remains the photographer's.
One of the free-to-enter photo competitions and open to all levels, there are four categories – professional, open, youth and student. Check the website for prizes in each. All shortlisted and winning entries are exhibited in the Sony Awards Spring exhibition at London's Somerset House, included in the annual book and given digital exposure on the site for 12 months.
Taylor Wessing Photographic Portrait Prize
Sponsored by Taylor Wessing and organised by the National Portrait Gallery, London, the international competition is open to everyone aged 18 and over. Photographers are encouraged to interpret 'portrait' in its widest sense of 'photography concerned with portrayed people with an emphasis on their identity as individuals'.
It's free to enter, but you can only submit up to six photographs. The winner of the competition gets £15,000 and shortlisted/finalists also receive cash prizes at the judges' discretion. All selected works are displayed at the National Portrait Gallery and appear in the exhibition catalogue.
Copyright remains the photographer's, but there are various licensing terms and conditions.
Wildlife Photographer of the Year
Hosted by the Natural History Museum, this is an international competition open to all photographers. There are 16 categories, including Animal Behaviour, Earth's Environments and the Photojournalist award. Judges look for images that push artistic and technical boundaries.
The top prize is £10,000 but there are various other cash awards and winners are featured in an exhibition at the museum that tours globally. The entry fee is £30 and you can submit a total of 25 entries in the adult competition.
Good luck!
photographers