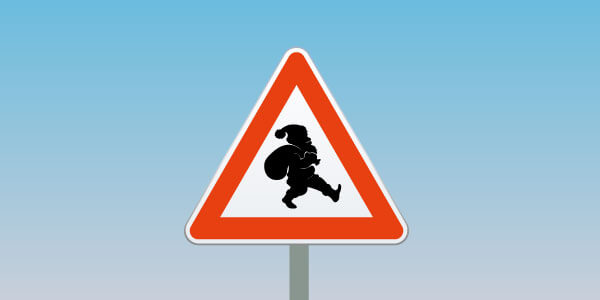 For he's a jolly, good fellow
In case you hadn't noticed, it's Christmas.
And for most of us that means one thing: a visit from Santa (if you've been good of course).
But don't be too harsh if he's a bit late with your stocking this year – the poor old chap has got an unenviable task. An ever-expanding global population is a constant niggle and kids are so demanding these days ...
It takes a full-time, year-round operation to ensure no one's forgotten and everyone gets what they've asked for. The logistics are an absolute nightmare.
But unfortunately we live in a sue-first-ask-questions-later world. It's probably only a matter of time before some loon wants compensation from Santa plc for not delivering the right present.
Santa clause
Which brings us to some of his other modern-day problems.
Who's going to pay if he damages a chimney pot? What happens if an elf is injured in the workshop and can't work? What's he going to do if all the presents are nicked off the sleigh?
He's going to need professional insurance and lots of it. After all, there's no backup plan. A little self-preservation at this charitable time won't go amiss.
So if you're reading this, Santa, here's our list of insurance essentials:
Professional indemnity. There's a considerable monetary value attached to Project Christmas and its global success or failure hinges on Santa's ability to deliver what's been asked. If things don't go according to plan, professional indemnity insurance protects him against claims from spoilt kids dissatisfied clients.
Public liability. A fat man in dirty wellies dragging an enormous sack of presents around the living rooms of the world is a recipe for disaster. And goodness knows what damage a supersonic sleigh pulled by nine reindeer can do. Public liability insurance means Santa's protected if someone claims he's damaged their property, or given their sleeping child a black eye with an errant satsuma.
Employers' liability. Thousands of little helpers at the North Pole face potential illnesses from working in freezing conditions, and back injuries from lifting heavy parcels. Not to mention paper cuts from wrapping paper. If one of those little helpers sues Santa for shirking his elf and safety responsibilities (sorry), he'll need employers' liability insurance to fight his corner.
Property. The operation at the North Pole is big. Very big. Santa's invested heavily in specialist equipment and facilities. But what if the yuletide log slips from the fire and burns the workshop down? What if a polar bear eats the presents? What if the Grinch breaks in? Replacing damaged or stolen bits and pieces is going to be expensive, so office and property insurance is a no-brainer.
Portable equipment. Although he knows his project plan inside out, Santa will want to keep in touch with the elves when he's on the road, just in case. Portable equipment insurance covers his laptop and mobile if they're lost or damaged while he's out and about.
Business interruption. Although the North Pole is (usually) mostly solid ice, the magic of global warming means it's more likely than ever to melt and flood Santa's operation. The consequences of Santa not being able to get to the office don't bear thinking about. Business interruption insurance covers the cost of him having to temporarily set up elsewhere (we hear the South Pole is vacant).
Directors' & Officers' insurance. Elf insurance, basically. Although they're a dedicated bunch, a workforce the size of Santa's is bound to have the odd miffed mini-man. Directors' & Officers' insurance covers Santa if an elf sues him for, say, shoes-not-pointy-enough discrimination.
Anything else?
Well, he'll probably want goods in transit cover, key-man cover, aviation cover, motor cover, livestock cover … the list goes on.
Insuring Santa is going to be a complex and probably very expensive undertaking. But, as far as we know, he hasn't missed a year yet and his claims record is excellent. He's a good risk and he shouldn't find it too much trouble.
So with that in mind, big man, drop us a line if you need help. You know where we are (we'll chuck in a mince pie and a sniff of brandy, too).
Merry Christmas!
business interruption insurance
managing risk
office insurance
portable equipment insurance
property insurance